Learn how to infuse your home with vibrant colors, whether through small details or painting entire walls.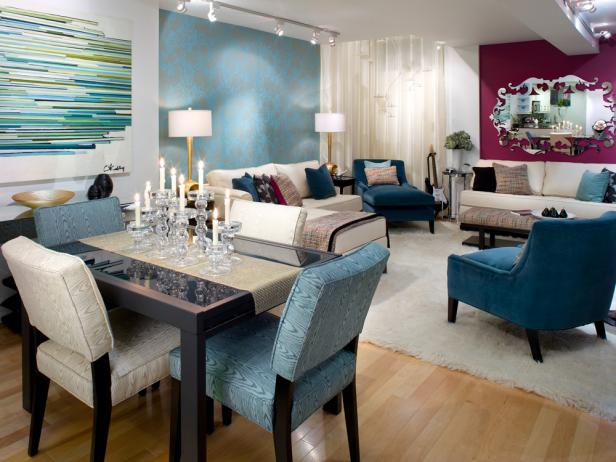 Contemporary Open Plan Dining Room With Accent Walls
Two bold-colored accent walls create drama in this open dining and living room. Designer Candice Olson, host of HGTV's Divine Design, demonstrates how to tastefully use color in this space with bright blues and a jewel-tone magenta through accent walls, furniture upholstery and artwork.
To use color boldly can be a challenge. Many people end up picking the wrong color for the wall (probably because of the small paint chips we use to pick our colors), and then we wonder why we aren't happy with the result.
If attempting a bold color, like a daring hue for your walls, consider a few pointers.
First, color theory is really a science, which I won't get into — it's way too boring. Let me say this: There are many different looks or tones a color can create. For example, some colors are very soft; think pastels, colors that are mixed with tons of white paint to get a lighter, softer color. Some colors are dark, rich jewel tones and others are bright, juvenile primary colors.
Basically, you want to pick one look for your entire house. Not that you can't have different, unique colors in every room, but pastel pink in one room, primary red in the next and deep, dark purple in another won't flow well. The idea behind using color well is it should flow in your house, not be a patchwork of opposite looks. If you love color and are going for bold color throughout your home, pick one look. It could be all light pastel colors or all jewel tones, which are rich, saturated colors that often resemble actual gems, in look and name, like emerald green, sapphire blue or ruby red.
Second, for those not quite as adventurous with bold color, you don't have to paint an entire room. Bring in one boldly colored accessory, fabric or rug. It's often an easier way to incorporate bold color without going over the top or without making a costly mistake.
Another way to add a dash of bold color is to try it in a small room. Powder rooms are typically small and are a great place to experiment with a bold color on the wall. Just don't paint your powder room green because it can cast a sickly green tone into the mirror and you (or your guests) will always have an "off" look.