Color Q&As: Mastering the Neutrals
When it comes to decorating, it's OK to go gray. Color experts Mark McCauley, ASID, and Barbara Jacobs help you navigate the neutrals.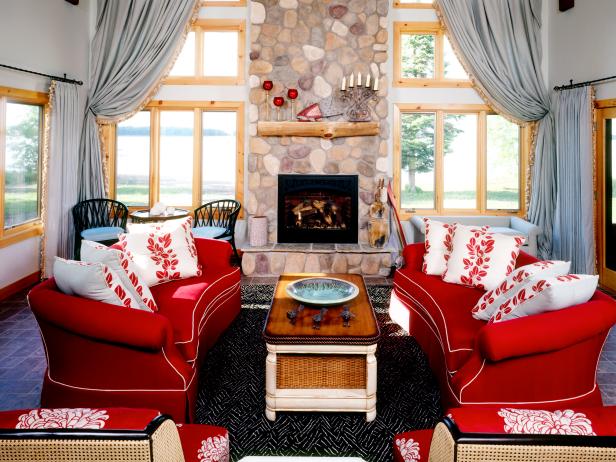 Country Living Room With Red Sofas
Use window treatment hardware as another way to add color and texture to your design, whether it's a simple wrought-iron rod or a more elaborate treatment like this one by designer Shelly Riehl David.
Use window treatment hardware as another way to add color and texture to your design, whether it's a simple wrought-iron rod or a more elaborate treatment like this one by designer Shelly Riehl David.
Dear HGTV.com,
We live in a Cape Cod and just painted our living room an Ice color (light gray) and the ceilings white. We have a deep wine-colored leather loveseat and sofa with black accents in speakers, TV and sconces. Our rug is a Berber with a mix of colors, including gray, black, wine, green and tan. We tried light gray sheers with black valances and that looked terrible. I just tried black sheers with a light gray scarf and that didn't look too good either. Help! Any suggestions are appreciated.
—In a Curtain Quandary
Dear In a Curtain Quandary,
One of the cardinal rules when decorating, and one of the easiest to implement, is to pull colors from the largest pattern in the room for walls, ceilings and flooring. You've gone about this a bit backwards, as you've done the large blocks of plain color first.
But, never fear, even though the reverse method is a tad more difficult, it can be done. First, you need to find accessories, artwork and fabric patterns (perhaps a wine colored background with a pattern in subtle gray or using gray pin-dots) that can pull together the pieces and colors you described. A beautiful work of art that encompasses the wine colors with the gray and black could become a focal point, for example. You can then "pull colors" from this for window treatments and other room elements.
Since you have wine-colored leather (red), and "ice-colored" gray walls with a white ceiling, you have created a high-contrast room with clear edge line definitions. It could be somewhat cold and formal. A third color that coordinates well with red/gray would be a good addition. But what color? The complementary color to red is green, but since your red is in the wine family choose a deeper green so that it doesn't float away. Analogous colors on either side of the color wheel of red would also work. Try either purple (eggplant) or orange (saddle color) or perhaps yellow (mustard). Use these in small doses as throw pillows or lampshades, perhaps accents on the cocktail table. This will give you a warmer jewel-toned look to the space.
As for the windows, here's a tip: Use wrought iron for the poles on the window treatments to help you move the black up onto the walls without the overabundance of black you disliked on the valances. This will also add another material to your materials mix: iron. Also, skip the black and gray on the windows. Try to concentrate more on the wine color (with black rod) as the overall panel or valance. You might also bring one of the jewel colors over to the window treatment. For example: wine colored panels with a mustard-colored valance.
Before you do anything, run over to the paint store and get a color wheel. They're relatively inexpensively and, obviously, less expensive than continuing to buy window treatments that you don't like. Also, be sure you bring fabric in the colors I mentioned home before you whip up a batch of window treatments with them. With the swatches you can see how the color reacts under different types of lighting (natural sunlight, incandescence at night). You should choose the color that looks best during the times when you will most be in the room. A color can look great in direct sunlight, but lose its bling at night.
—Designer Mark McCauley, ASID
Dear HGTV.com,
I want a neutral palette for my living room and I was thinking about doing everything in the brown family. What other colors could I add so it wouldn't look bland?
—In Love with Brown
Dear In Love with Brown,
Like other color families, the browns are hot and cold. Some warm browns have undertones of yellow or red, while cooler browns can even go more toward the bronze tones. You'll even find deep golds in the "brown family." So, whether you're thinking of walls that are a deep chocolate brown or a rich, "saddle-leather" kind of color, you can use a wide variety of fabrics and other accessories to introduce many other hues. This color scheme definitely does not have to be bland!
In fact, just about anything will complement browns: the deep browns are great with colors like turquoise, lime green, sea-blue/green and a whole range of oranges/pinks/fuschia/purples. The golden browns match well with colors like cinnamon, deep red, plum and teal. Mix and match to your heart's content — and experiment! Use those accent colors in un-equal amounts for the most dynamic, decidedly un-bland environment.
—Color consultant Barbara Jacobs, Integral Color and Design