Organizing Books and Magazines
When household reading materials have swelled past the point where they can reasonably be termed a library, it's time to prune the literary collection.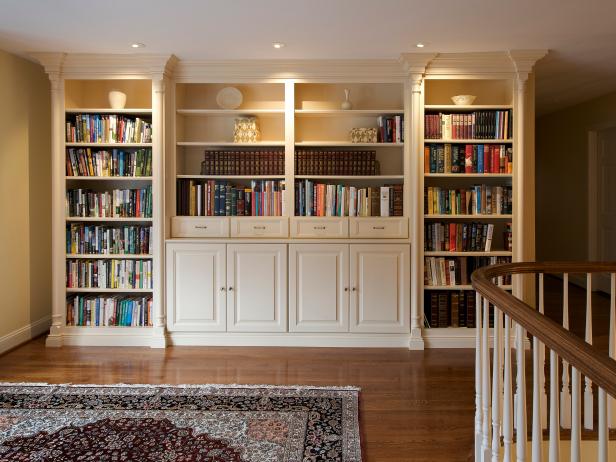 Elegant Bookshelf Provides Beauty and Storage
Another lovely addition to this home is the lovely built-in bookshelves that fill the wall at the top of the stairs. These floor to ceiling bookshelves give the couple a place to show off their impressive book collection, but the cabinets at the bottom also provide storage space for the couple.
STOP Clutter in the Library
Depending on the number of books you have, expect to devote two to three STOP clutter sessions to the task. Gather your tools: a timer and a STOP clutter box marked Sell/Donate (you may need more than one Sell/Donate box!). Set the timer for 20 minutes. To help focus the STOP clutter decision-making process in the library, ask yourself these questions:
When was the last time I read this book?
Will I read it again?
If a reference book, is it current? If so, have I consulted it in the last year?
If it's a cookbook, do I use it? Hint: the presence of food stains indicates a keeper.
Is this a textbook from my old school days?
Is the book a classic?
Does the book have intrinsic value — is it a signed copy, first or collectible edition?
Is the book out-of-print or hard to replace?
Is this a book I've borrowed and need to return?
The answers to the above will point you to a decision. Books that have never been read don't belong in an active library; release virgin books so that another reader may love them. Similarly, you should pass along any read-it-once titles; there's nothing so stale as reopening a whodunit when you already know who did.
Cookbooks and reference works are the gym rats of any library, and should be kept only if they are exercised regularly. Similarly, old school textbooks are dead weight on household bookshelves; find a more endearing souvenir of university days to cherish, and free space on the shelves for titles that don't bring the agony of calculus to mind.
Be cautious in your approach to classic works; far too many families spend literal generations dusting old matched sets of "great books" for their imagined cachet. If you read the classics for enjoyment, hold on to them but dead paper does nothing to promote knowledge or culture if it is simply sitting there as a status symbol. Pass unwanted classics on to a library or school, where the great minds can reach out and touch a rising generation.
Finally, don't focus too closely on value when deciding whether to keep a book. A signed copy of a friend's cookbook is a keeper, but a "first edition" of a widely distributed "Sex Among The Cavemen" bodice-ripper has negligible intrinsic value. Online auction sites are a great way to get a quick valuation of most books and can help you decide whether to keep so-called "valuable" titles.
Organizing a Home Library
Even pared down, the household library needs to be organized so that you can find the book you want when you need it. Think like a library, and sort your books by collection.
Children's titles belong in the children's room or on a low bookshelf in a family room where they're convenient and accessible for little readers. Computer users or work-at-home professionals need their reference works shelved close at hand. Don't make the household's computer geek go too far from the keyboard to find his or her guide to Linux operating systems, and shelve work titles in the home office area. Keep cookbooks on a handy kitchen shelf where everyone knows where to find them.
Just as a library has a reference section, it's best to group dictionaries, encyclopedias and reference works together. If you house them on shelves in a family area, they'll be easy to consult for questions over homework or arguments over the Scrabble board.
Separate novels and nonfiction titles to make it easier to find a good read on a rainy night. The library shelves novels alphabetically by author, and while that treatment causes those of the decorating persuasion to shudder, you'll get a hearty thumbs-up from the literati among us if you follow this system.
Nonfiction titles work best grouped by subject matter. Sorting books into history, politics, biography, travels and foreign language sections make it easy to prepare for a vacation trip or check your French spelling.
Shelving books according to size or color is a dead giveaway of books bought by-the-foot to accessorize a model home, but shelving limitations may require a separate section for oversized books. Stack them on their sides so that they fit more easily on bookshelves.
Houseworks © 2006, 2010 Dorling Kindersley Limited
Text copyright © 2006, 2010 Cynthia Townley Ewer