9 Handyman-Approved Supplies You Need
Psst! The pros have a stash of genius fix-it products that you've never heard of until HGTV Magazine got them to share.
If you worry about shocking yourself when you install a light fixture, this is for you. It detects a live current in any wire or outlet—even at low levels—so you never get zapped."—Scott McGillivray, Income Property. 10-1000 V Dual Range voltage detector, $25, milwaukeetool.com for stores
Accidentally drip latex paint on your clothes or furniture? This whisks it off like magic, no harm done. It's a lifesaver when I spill paint on Drew's stuff—not like that ever happens, though."—Jonathan Scott, Property Brothers. Goof Off Pro Strength remover, $3.50 for 4 1/2 ounces, lowes.com
This is like duct tape with superpowers. It's made of industrial-strength fiber that's coated with resin, and it will repair anything, from a chair leg to a hose. Dip it in H2O, then wrap, and wind. It dries hard as steel—no joke—in less than 15 minutes."—Jim Landers, Mr. Handyman of Greater Fairfield County, Fairfield, CT. FiberFix repair wrap, $8 for a 2" x 50" roll, fiberfix.com
This is the king of heavy-duty primers, good when nothing else works. The coverage is top-notch—it even conceals marker scribbles. And it doesn't need long to dry. Spray it on and you can paint in an hour."—Dan Bawden, Legal Eagle Contractors, Co., Bellaire, TX. Kilz Original Aerosol primer, $6 for 13 ounces, kilz.com for stores
Electric stud finders aren't always accurate. This old-school classic with a magnet inside is more reliable. It's all I use to locate studs."—Josh Temple, House Crashers. C.H. Hanson magnetic stud finder, $10, homedepot.com
I can't live without zip ties. They do it all: close bags, keep tools in place while I'm working, neaten up wires and cable. I've even used them to hang tools from my belt loops."—Chip Wade, Elbow Room. Commercial Electric 8-inch cable ties, $4.50 for a mixed set of 100, homedepot.com
When no amount of cleaning will turn dingy grout white, I recolor it. This formula comes in 20 shades and makes gross grout look brand-new. Plus, it seals at the same time."—Robert Criner, Criner Remodeling, Newport News, VA. Aqua Mix grout colorant in antique white, $12.50 for 8 ounces, custombuildingproducts.com for stores
Strong But Scratch-Resistant
I've been a fan of this cleanser for years. It's gritty, but it won't scratch and can lift off black scuff marks—like the kind left behind by tools—from bathtubs and sinks."—Paul Sullivan, The Sullivan Company, Newton, MA. Zud Heavy Duty cleanser, $2.50 for 6 ounces, Ace Hardware stores
Brace yourself: This level will totally change how you hang mirrors and art. It sticks to the wall via vacuum suction and shoots a red laser line across it like you're in a Tron movie. So cool!"—Jason Cameron, Sledgehammer Ryobi AirGrip Compact laser level, $20, homedepot.com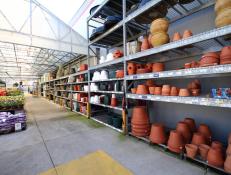 HGTV blogger Meagan Francis describes clever ways to get the most out of your gardening dollar.