Watch: Joanna and Chip Can't Get It Together
Between Chip's dog barks and fashion talk, Joanna can't seem to get any work done in these hilarious Fixer Upper outtakes.
Joanna's Always a Step Ahead
02:58
Joanna and Chip talk about Chip's fashion sense in these funny outtakes.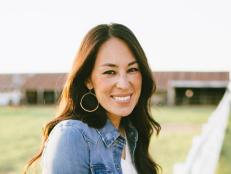 With so many stylish looks, we decided to share HGTV's Fixer Upper host Joanna Gaines' best outfits from the show.