Fixer Upper's Season 3 Premiere Is Here! Tell Us Why You Watch
Chip's jokes, Joanna's flea market finds, Clint's amazing furniture pieces...use #IWatchFixerUpper to tell us why you're watching.
The wait is finally over: Tonight at 9p | 8c, tune in for the season three premiere of Fixer Upper on HGTV. As we count down the hours, minutes and seconds until everyone's favorite renovation family is back on the air, we want to know, why do you watch?
Do you swoon when Chip and Jo wheel back that giant sign? Do you love covering your face when Chip takes on a gross (yet hilarious) new challenge? We want to know! Print out this sign, write down what you love about Fixer Upper, and share your photo with #FixerUpper and #IWatchFixerUpper on Instagram and Twitter.
Fixer Upper carpenter extraordinaire Clint Harp is watching for the gutsy remodeling risks.
Take a tour of Chip and Jo's riskiest remodel yet: Clint and Kelly Harp's 100-year-old home.
Instagram user @worls4 can't get enough of Chip's muscular physique.
Get to know the couple behind your favorite show. 
Love It or List It contractor Eric Eremita is watching to see the custom metal work creations from Jimmy Don of Stars Over Texas Metal Art.
Rev Run's Renovation stars Rev Run and wife Justine are in it for strong family ties.
And Fixer Upper producer and Instagram user @LindsayWeidhorn loves the adorable farm animals. (Really, who can resist baby goats?)
Print the sign and tell us why you watch, then tune in Tuesdays at 9p | 8c for fresh episodes of Fixer Upper.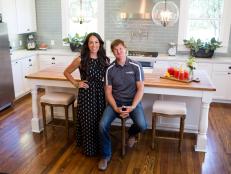 HGTV's Fixer Upper season three premiere episode is available for free download. (Just think of it a gift from your BFFs Chip and Jo.)