3 Things to DIY + 3 Things to Leave to the Pros on Your Wedding Day
Balance is the key to happiness.
The week before my wedding was one of the busiest of my life. Between packing for the honeymoon, dropping off welcome baskets and mingling with family and friends at the rehearsal and rehearsal dinner, I didn't have a second to spare. Needless to say, I was glad I hired trusted professionals to handle some of the bigger jobs, allowing me to relax, enjoy and be present on my big day.
But like many couples, my husband and I were on a tight budget. And in order to pull off the chic, romantic look I wanted, I had do a lot of the prep work myself. While I love a good DIY project, there were a few times in the months leading up to the wedding when I felt totally overwhelmed. So if you're at the beginning of your wedding-planning journey, take these words of advice from a bride that's been there: figure out what you can feasibly do yourself, then hire someone to do the rest. The last thing you want to be on your wedding day is stressed.
As long as you start well in advance of your wedding date, making your own decorations such as centerpieces, signs, pew markers and more is a great way to stay on budget without sacrificing style. Browse through our favorite easy-to-make wedding projects below, then get your BFFs together for a wedding craft night a few weeks before the big day.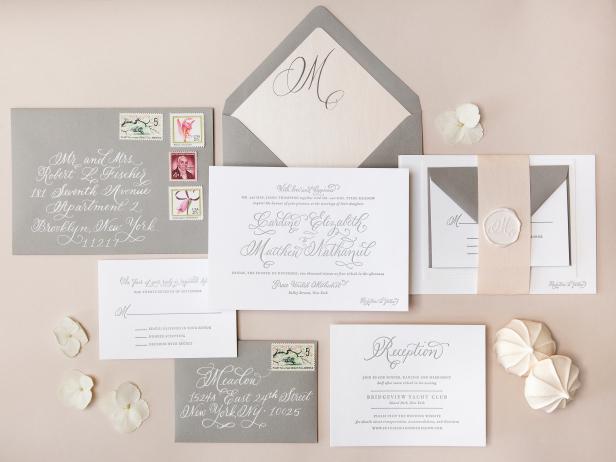 Budget Wedding Tip: Printing Styles Can Affect Invitation Cost
The method in which your wedding stationery is printed can drastically change the price of your order. Fine printing techniques like engraving and letterpress can increase your cost exponentially. If you're on a super tight budget opt for flat, digital printing to get the best bang for your buck.
The keys to successfully planning your own wedding are staying organized, doing your research and knowing when to delegate. That being said, meeting with and hiring vendors, managing receipts and ordering invitations can quickly become a full-time job. My advice? Assign smaller tasks to a handful of trusted friends and family who understand your vision and with whom you can be open and honest. Then, hire a coordinator for the day of the wedding so that you and your loved ones can enjoy yourselves without worrying about timing and logistics. Get our top planning tips plus a printable 12-month to-do list below.
Wedding favors are a thoughtful way to show your friends and family how much you appreciate them. But if you're expecting upwards of 100 guests, these small gifts can get pricey, quick. Making your own not only helps you stay on budget but is a special and unique way to say "thank you."
WHAT TO LEAVE TO THE EXPERTS: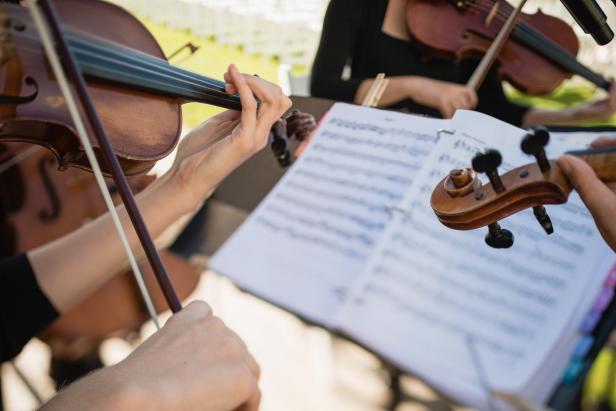 Find a Wedding Planner
Sometimes your venue may provide you with a day-of coordinator, but in case it doesn't, you'll need someone on the day of your wedding to coordinate all of your vendors and make sure everything runs smoothly. Alternatively, you can also hire a full-time planner that will plan everything with you from the very beginning to the day after the wedding.
A good DJ does more than hit the play button — he acts as an MC, provides a high-quality sound system and ensures the right songs are played at the right moments. Because DJs normally charge by the hour, you could cut costs by making your own playlist for the ceremony and cocktail hour, then hire a pro for dinner and dancing.
Even if you're a skilled baker or chef, making a wedding cake or plating 200 hors d'oeuvres the day before your wedding is an added stress you don't want to take on. Instead, hire a caterer with good reviews and be involved in every step of the process, taking advantage of tasting opportunities and being honest about what you do and don't want. If saving money is your main concern, consider a semi-DIY approach to your wedding cake: purchase a plain white wedding cake, then decorate it yourself.
A great wedding photographer is the single most important investment you will make. After all, you can't go back and redo it if the pictures don't turn out the way you want. And while hiring a friend or family member for this job might seem tempting budget-wise, it's best to leave this one to a pro.