Jonathan Adler Talks Turkey (Legs): The Designer on Holiday Traditions and Design Trends
Plus, we had to know his favorite emoji.
If you're reading this, Jonathan Adler probably needs no introduction. In addition to his own impressive home decor enterprise, he's brought his brand of mid-mod flair to everything from hotels (The Parker Palm Springs) to coffee mugs (Starbucks). I caught up with him to check out his latest creative collabo — a collection of Moto X Pure Edition phones — and to get his thoughts on design trends, holiday traditions and gift-giving.
Spoiler alert: If you're Jonathan's husband, Simon Doonan, you should stop reading now, unless you don't want your present to be a surprise.
What's the one design trend you wish would go away forever?
[Real] Taxidermy. I get it. It's supposed to make people seem edgy, but to me, it just makes me feel very sad.
And one design trend you're obsessed with right now?
Oooh, mixed metals! Can't get enough. For me as a designer, it's a fabulously liberating trend, because I like to mix my metals and work in different metals. It's a great "more is more" era.
JA ... on Holiday Traditions
What's your favorite holiday tradition?
Well, Simon and I are both sorta Christmas elves all year round, so when it comes time for the actual holidays, we keep it super low key. But, we have these fab Christmas balls that we bought at the Liberace Museum 20 years ago. We kept them in their original packaging and we just put them on either side of the mantel. That's the beginning and end of our holiday decor.
What's your must-have holiday dish?
I'm like Henry VIII; if I have a gigantic turkey leg in my hand, I'm happy!
What's your favorite holiday gift that you've ever received?
I should say something very sweet and sentimental and pure, like an experience, but the truth is, the best gift I ever got was my super-fancy Rolex watch from my husband. So, when you get right down to it, I think my favorite holiday gift was my most expensive holiday gift!
I hear you that you designed some phones especially for the gifting season, is that right?
I collaborated with Moto X Pure for rad Jonathan Adler-designed phones in trendy yet timeless patterns that make fab holiday gifts. I think technology is always a surprise gift, and it's strange to me that people don't think of gifting technology more, because it's as essential these days as the air that we breathe! So, I know my hubby will be getting the Honeycomb pattern. That hits all the right notes: masculine, feminine, timeless but "today."
If you were an emoji, which one would you be?
I think I'd be that one, I don't know what it's called, but the one where it's like, one eye closed and one eye open —
And he's like, sticking his tongue out? Yes!
What do you think that's supposed to mean?
I think it's like, being cheeky?
Like a little sassy? Mm-hmm, I like it. It's sassy.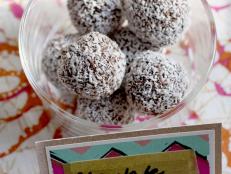 These dark chocolate truffles are a delicious indulgence and make a great gift to give to friends.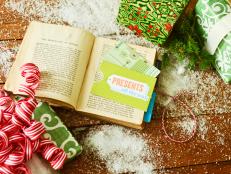 Indulge the gardener in your life — or yourself — with an inspirational or useful garden book this Christmas.