Coffee Break! Here's How HGTV Editors Take Their Coffee
Because nothing wakes you up quite like caffeine.
Oh coffee, you miracle in a mug, I don't think I could love you any more if I tried. And I'm far from the only person whose affection for coffee borders on obsession.
So in honor of the delectable caffeinated drink, I asked 8 fellow HGTV.com editors to share their go-to coffee habits. Read on to see how we take and make our java.
1: "I'm a huge iced coffee addict. Even in the winter, a grande iced coffee (I'm a Starbucks fan) with no sweetener and a little half and half is my go-to drink. I love the taste, the bitterness and the fact that I don't have to wait for it to cool down to drink it (I'm impatient and I'm working on it). And I usually grab it on the way into work every morning – and it's always a great way to start the day." – Jordan Lawson, Online Editor
2: "Mornings don't exist without iced coffee. The one thing in my kitchen I couldn't live without? My Hario Mizudashi cold-brew iced coffee pot (see image below). It takes me less than five minutes to make a week's worth of iced coffee, and it's the best coffee I've ever had — hands down. My perfect homemade iced coffee goes like this: two parts coffee, one part unsweetened almond milk, then topped with a splash of pure vanilla extract. My Starbucks obsession is gone and my wallet is breathing a sigh of relief." - Kayla Kitts, Managing Editor
3: "Whenever I get homesick for hometown in South Florida, I break out the espresso machine. When I worked at the Miami Herald after college, every day at 3:05 my colleagues at the El Nuevo Herald would make their way around the newsroom pouring each person a tiny thimble full of sweet, heart-pounding Cuban cafecito. I made sure to learn the secret to making this super-strong coffee treat before moving to Atlanta, knowing it would be harder to get the real deal Cuban variety so far away from Miami. To recreate this daily ritual at our Atlanta office, I use an electric espresso maker (workplace safety!) like this one, finely ground Cuban espresso coffee like Café Bustelo and raw sugar to make the espuma, or foam. When you whip up a batch, make sure you share it with friends. It's not for the faint of heart and it will jolt you forcefully through the rest of your day!" – Mallory Ziglar, Community Manager
4: "I pretty much can't function in the morning without coffee — seriously, don't even try to talk to me if I haven't consumed caffeine — and for me, the stronger the better. I love using my Bodum French Press (in rose gold, natch) because it lets me control the strength and I can even add ground cinnamon or vanilla extract to the grounds before adding the hot water if I'm craving something a little sweet. When it comes to my preferred variety of coffee, I always go for Dark Roast. That's why I was so excited when illy came out with an Extra Dark Roast last fall. It's robust, delicious and honestly doesn't need any milk or sugar (and I'm usually not a big fan of black coffee). When I took my first sip I knew I found my coffee soul mate." – Bridget Mallon, HGTV Magazine Online Editor
5: "Coffee is life. On the regular, I like my coffee iced and strong. I usually make my own, but when I'm running early or want to treat myself, I swing by Dunkin Donuts for a medium black iced coffee with one espresso shot and two shots of mocha. It's the perfect balance of sweet, stout and jittery." – Chelsea Faulkner, Assistant Editor
6: "I started drinking daily cups of stale coffee when I switched from a night shift to a day shift years ago, but my taste has improved (gotten snobbier?) over time. I was given an Aeropress (see image below) a few years ago, and it's been the source of my weekday cup of coffee ever since. Paired with coffee beans from a local roaster, it makes a consistently good cup of coffee — way better than the free coffee at work and cheaper than stopping at a coffee shop. On the weekends, my (former barista) husband insists on hand-grinding the beans and using a French press to brew. I'm not going to complain!

 – Beth Rucker, Managing Editor
7: "I like coffee first thing in the morning (before 6 a.m.). So every night before bed, I set up and put the timer on my Cuisinart Grind and Brew. It's so wonderful to have a fresh cup waiting for me when I get out of the shower." – Jackie McGilvray, Editor
8: "I like coffee. Don't get me wrong. But generally, I see coffee as more of a special treat than a daily ritual. One of my favorite things to do when I visit a new city is to find their coolest local coffee shops and try one of their specialty drinks. The last time I was in Nashville, I got a cold drip mule at Barista Parlor. Basically, it was like a Moscow mule minus the vodka and add the cold drip. I was excited (and a little wary) for my first sip. And y'all, it was good. Seriously good! I'm actually going back to Nashville soon, but this time I want to try Steadfast Coffee. I've heard their coffee soda is amazing!" -Keri Sanders, Assistant Editor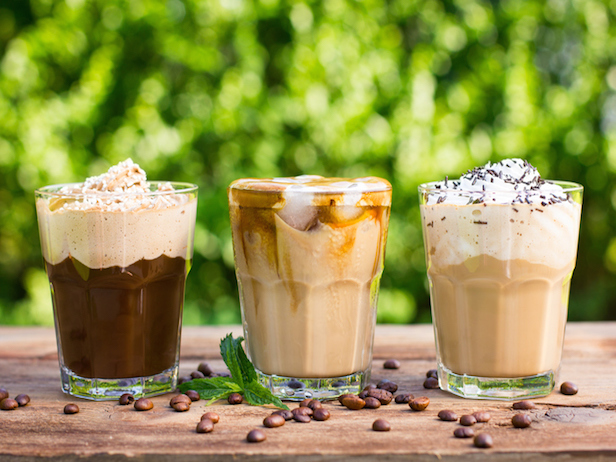 Get through Monday (and the rest of the week) with these coffee-centric recipes.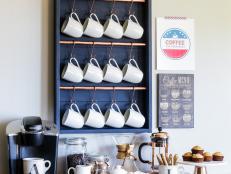 Charge your batteries for the day by setting up a coffee bar with all the essentials.