8 Fall Mantel Ideas We Love for the Season
Deck out your mantel with autumn leaves and pumpkins galore.
Chilly fall evenings are upon us, and all I can think about is snuggling up with a cozy blanket and sipping on hot cocoa by the fireplace.
But first, to make that comfy setting complete, we must think about cleaning up the fireplace and dressing it for fall. Nothing feels more at home to me than a seasonally decorated mantel and a crackling fire underneath. And once you spruce up the fireplace, it's time to start decorating. Get those creative juices flowing by these gorgeous fall mantel ideas:
The wall above the fireplace deserves some love, too. Consider mounting a collection of open frames in different styles and sizes. You can even attach a small wreath to fit inside one of the frames. Select seasonal produce, such as pumpkins, to decorate the mantel and fill in with strands of wheat to complete the look.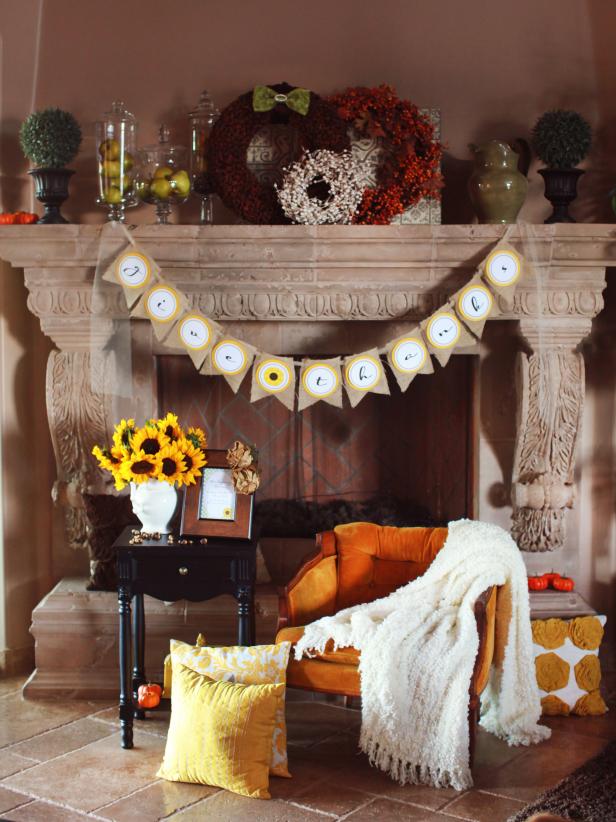 Thanksgiving Fireplace Decorated for Fall
Find other focal points in your home to liven up with autumn decor. Concentrate especially on rooms that adjoin the dining room, like the living room. Here, a burlap "give thanks" banner brightens up the stone fireplace, while textured wreaths and fruit-filled apothecary jars are beautiful accents.
A fun, festive banner adds a little something extra to the mantel. Here, a burlap banner perfectly complements the collection of wreaths and fruit-filled apothecary jars. Nothing finishes the design quite like a cozy reading nook.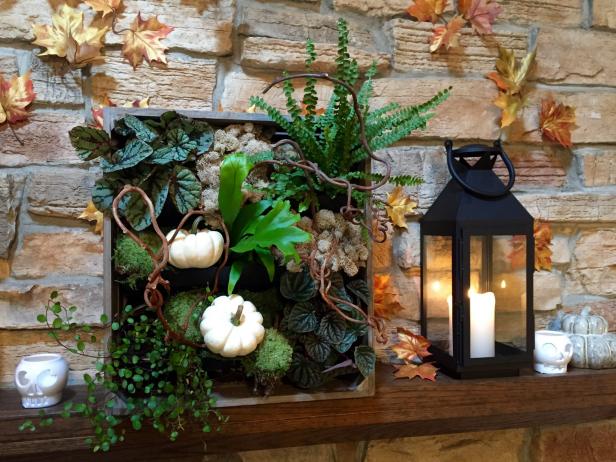 Indoor Vertical Planter
Hang this vertical planter on a wall, dress up a bookshelf or add life to your mantle decor. This wine crate will hold nine 4" plants, but floral designer Angela Darrah chose to only use five. She filled the remaining four cubes with mosses, kiwi vine and white mini pumpkins.
Bring the outdoors in with this gorgeous vertical planter. The repurposed wine crate features mini white pumpkins, mosses and kiwi vine. Faux leaves and candles tie together the design and add the right dose of ambience.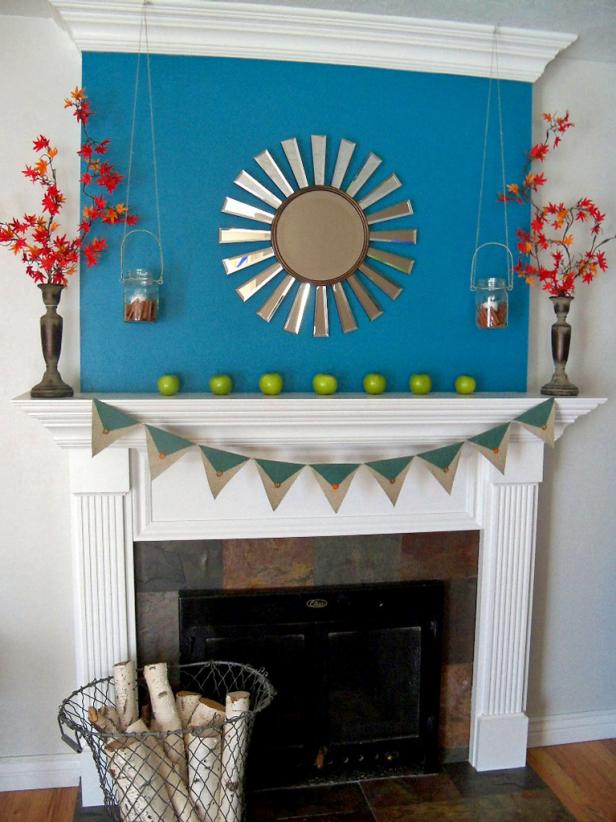 Fall Mantel Decor
For a simple way to spruce up your mantel for fall, Holly Charlesworth of My Sister's Suitcase suggests placing cinnamon sticks in mason jars and hanging them above the fireplace. For a splash of color, she created a bouquet of vibrant fall foliage and lined the mantel with bright green apples.
A more contemporary approach to decorating, this mantel idea boasts vivid colors of blue, green and red. Hanging on either side of the sunburst mirror, Mason jars filled with cinnamon sticks infuse the space with the smell of fall. Apples instead of pumpkins are a nice approach to get that fall feel without being completely traditional.
Fall flower arrangements line a beautiful mantel with small gourds filling in each empty space. Simple and symmetrical, this design is a stunning and timeless choice for fall.
A mix of white and metallic pumpkins, pinecones and a dry erase board top this wooden mantel, proving that silver and white isn't just for winter decor.
Yellow and orange leaves intertwine the mantel and pop against the all-white backdrop. Fall foilage is a simple, yet gorgeous way to bring in the outside elements. You don't have to go all out with your decor. In this case, less is more.
Visit your local craft store to easily recreate this mantel. Use real or faux white pumpkins, letter stickers, a small wooden plank and fake leaves for the wreath. If you're feeling extra crafty, try out this faux calligraphy hack to letter the wood plank and pumpkins yourself.