Ready for the Big Reveal? See the Winner of HGTV's Ultimate House Hunt
You voted, now find out which luxury listing earned the title of fan favorite.
Well, HGTV fans, the results are in. After touring remarkable homes from around the world, you submitted more than one million votes in this year's Ultimate House Hunt and declared a winner.
With floor-to-ceiling windows and panoramic views, it's easy to see why this year's victor swept not just one category, but two! Peek inside the contemporary retreat that took first in Waterfront Homes and claimed the spot of Fan Favorite.
Architectural Masterpiece in Honolulu, Hawaii
Designed by award-winning architect Jeffrey Long, this oceanside oasis radiates like a sundial on its lot, offering stunning 180-degree views of crystal blue water. An expansive swimming pool and flagstone deck further the feeling of an island getaway.
Locations LLC, a member of Luxury Portfolio International
With soaring windows and a warm, earthy color palette, the inside of the home is just as captivating as the outside. Where the windows fill the home with natural light and showcase the beauty outside, the plush furniture creates a comfortable, conversational environment.
In addition to an exercise room, sauna and raquetball court, this private paradise includes a glass balcony for watching the sunset. What more could you ask for?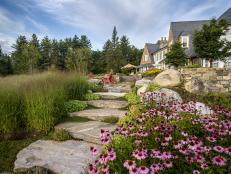 No matter where you live, there's no denying that warmer weather is (finally!) on its way. Here at HGTV, lengthening, sunny days put us in an outdoors frame of mind. If you're also itchin' to get outside but could use a little designer inspiration to whip your outdoor spaces into shape, then look no further!