3 Cool Converted Homes You Could Live In
Step inside three houses with intriguing past lives.
Sure, you could live in a regular ol' house that's always been a house. But if you've always dreamed of living in a home with a rich history, you'll love these three pads that started out as something else entirely. Take a tour of three gorgeous converted homes for sale.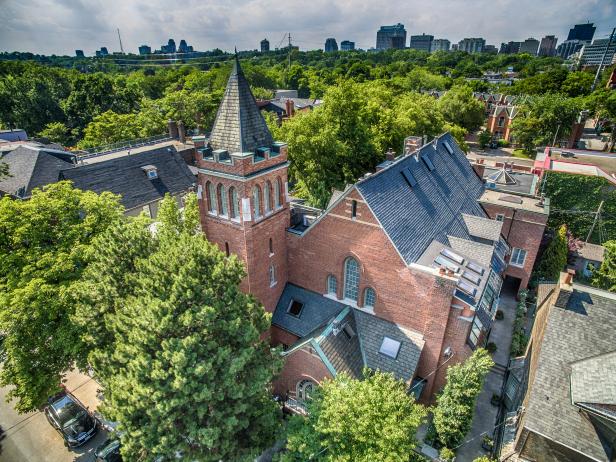 Toronto Church Converted Into Townhouses
Originally built in the early 1900s, this former Baptist church was converted into just five luxury townhouses in 2006. The building was originally constructed to hold 500 worshipers, plus 400 Sunday school students in the basement. The converted church is located at the edge of Toronto's stately Rosedale and Summerhill neighborhoods. The townhouse comes with parking for two cars in an underground garage.
Johnston & Daniel, a member of Luxury Portfolio International
Originally designed to hold 500 worshippers (plus 400 Sunday school students in the basement), this early 1900s church in Toronto, Canada, has been converted into five luxurious and spacious townhouses. Most of the building was destroyed in a fire in 1986, but it was beautifully restored during a renovation that was completed in 2006. Spanning more than 4,000 square feet over three levels, this unit features a media room with a cathedral skylight, a gourmet kitchen, a private patio and an underground garage with parking for two cars. See the Listing
Johnston & Daniel, a member of Luxury Portfolio International
Charming Former Carriage House
Laffey International Real Estate, a member of Luxury Portfolio International
Built in 1890, this former carriage house on Long Island, N.Y., has been converted into a lovely home on almost two lush acres. The restored space is full of charming historic details, including double doors that were originally an entrance for horse-drawn carriages. But the home isn't completely stuck in the past: the gourmet kitchen features a marble-topped island, a state-of-the-art Sub-Zero refrigerator and a stainless steel gas stovetop. See the Listing
Parisian Workshop Turned Loft
Junot, a member of Luxury Portfolio International
Once a woodworker's atelier, this stunning loft is located in the heart of Paris' 18th arrondissement (best known for the hill of Montmartre). The bright, open living room boasts gorgeous period details — check out the decorative woodwork in the exposed ceiling beams. Bold patterns and splashes of color can be found throughout the rest of the home, including a media room, three bedrooms and two bathrooms. Topping it all off is a rooftop terrace, where you can take in the City of Light. See the Listing