HGTV Community Guidelines
We want everyone to feel at home at HGTV.com. Our door is always open and all are welcome.
When it comes to our websites, follow our 'House Rules' and we'll all get along just fine.
Play nice. It's okay to disagree, but name calling, bullying and threats won't be tolerated.
Keep it clean. No profanity. We also ask that you avoid text lingo and shorthand.
Be original. Don't pass off the ideas of others as your own.
No soliciting or advertisements. If you're looking to advertise with us, you can do that here.
Stay on topic. Comments regarding politics, religion or other off-topic subjects will be deleted.
Get in touch. We love to hear your thoughts about our television programming. Drop us a line with your feedback here.
Enjoy your stay!
All user content is subject to Scripps Networks Interactive Terms of Use and may be removed at any time at the sole discretion of Scripps Networks Interactive.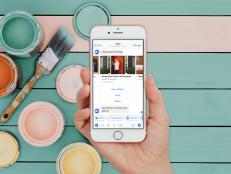 Let Hazel, your new personal style assistant from HGTV, provide you with inspirational photos and tips to start whatever design project you have in mind! No download required — just strike up a conversation with Hazel on Facebook Messenger.