What to Research Before Starting Your House Hunt
More than bedrooms and baths, find out what information you want handy for starting your house-buying journey. 

Look at your credit report and make sure it's accurate. A higher credit score equals lower interest rates for your loan. If your credit score is low, ask credit bureaus how you can boost your score. Do some research. Your credit may take some time to rebuild, but in the long run, a higher score can get you the best possible interest rate.
Once you have your score where it needs to be, stop buying on credit. Don't purchase a car, furniture or other costly items on credit, since it can affect your score at closing. Once your loan is ready to be finalized, the lender will rerun your credit and it needs to be where it was when you pre-qualified.

Find a Budget That Works for Your Family
Before starting your house hunt, know your budget. How much do you spend each month on food, gas and other household essentials? Track your expenses for a couple of months so you have an accurate picture of your finances. Knowing ahead of time what you can actually afford keeps you from overspending.
Plus, it never hurts to give yourself a cushion. There could be unforeseen repairs, improvements or even a life change, such as switching jobs or adding to your family.
Research Mortgage Lenders

It's never too early to start pre-qualifying for your mortgage loan. Money is one of the biggest concerns for first-time buyers. By talking with lenders, you get an idea of how much you'll need to save or which programs are available to get into a house without a down payment.
It's important to shop for a lender like you shop for your real estate agent or any other professional. Talk to several mortgage lenders because each company has its own programs, rates and closing costs. You need this information up front so that you're prepared for all the potential expenses.

Take Advantage of Online Resources

Once you have a budget in mind, use real estate search engines to identify the types of homes in your price range. These websites allow you to narrow your house hunt by price, number of bedrooms and bathrooms, neighborhood and more. A quick search provides a realistic idea of the kinds of homes you can afford and is a jumping off point for your next step.
Find a Trusted Real Estate Agent

Especially when looking for your first house, working with a trusted real estate agent is a big bonus. Ask family, friends and co-workers for recommendations. Not only is a knowledgeable agent familiar with the home-buying process, but he or she will also have useful information on neighborhoods, will help with an offering strategy and then negotiate on your behalf with the seller. Real estate websites might have outdated listings, but your agent will know exactly what's happening in the market.
Think About Long-Term House Goals

Take into consideration your family needs. If you have kids or are planning to start a family, think about the school district you want to be in. And even if you don't plan to have kids, knowing where the good school districts are will be helpful for resale and property value.
Consider your commute to work and how far you'll need to travel to run your errands. Your real estate agent will also help you identify your individual needs. Do you need a fenced yard for your dog? Is an attached garage essential? Do you have frequent visitors and need a guest room? Is a master bedroom on the main floor a requirement?

Once you and your real estate agent have talked through your must-haves and your preferences, it's time to start your house hunt!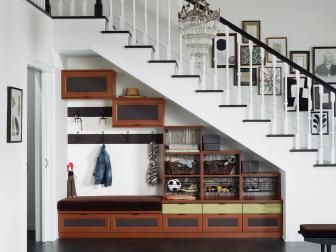 Make buying your first home go smoothly with our helpful tips, expert advice and money-saving ideas.