Sponsor content courtesy of Fiskars
A small kitchen can still be beautiful and functioning. Make the most of the given space with fun and simple DIY kitchen storage ideas to maximize each and every square foot.
1. Organize everything with custom pantry labels.
If you're corralling for a family or trying to organize for one, fun handmade storage labels help keep all the kitchen goodies in the appropriate places. Make It
2. Keep snacks fresh with fabric reusable bowl covers.
No matching lid? No worries. Reusable fabric storage lids expand to fit on a variety of bowls and containers. Get the tutorial here. Make it
3. Contain plastic bags in a DIY grocery bag holder.
Store reusable bags conveniently in a DIY fabric tote bag. Find bags easily when headed out the door to get groceries. Make it
4. Save countertop space with catch-all kitchen storage baskets.
When the countertop becomes a drop spot for keys, change and other small items, collect them with these beautiful, easy-to-make fabric catch-all baskets. Make It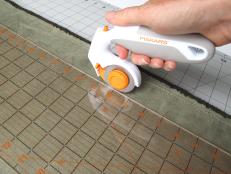 When it comes to storage ideas for small spaces, you can never have enough. Using a vintage wooden chest provides valuable storage space and making a cushioned top gives you extra seating, too. Sponsor content courtesy of Fiskars