Candy Craft: Tasty Trains
Sponsor article courtesy of Airheads®
SUPPLIES NEEDED: Scissors, Lollipop Sticks, Airheads, Airheads Xtremes
STEP 1: Using 4 Airheads (we used Blue Raspberry, White Mystery, Cherry and Orange) to make all the shapes shown in the picture. These will be used for your train cars.
STEP 2: Make a track with Airheads Xtremes by trimming off the red and yellow belts. Line up the red pieces. Then trim down the yellow and lay them across the red.
STEP 3: Attach the pieces used in the blue car.
STEP 4: Attach the pieces used in the red car.
STEP 5: Cut a small piece of an Orange Airheads and use as a link between the two. Press to seal.
STEP 6: Your train is ready to roll!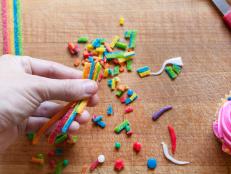 Buy or bake your favorite cupcakes, then use Airheads Xtremes as a tangy funfetti decoration. Customize your cupcakes even more by punching out stars, hearts, etc. from Airheads. Sponsor article courtesy of Airheads®