Candy Craft: Monster Cupcakes
Want to surprise your friends? Transform boring cupcakes into wild and scary monsters!
Sponsor article courtesy of Airheads®
SUPPLIES NEEDED: Cupcakes, Lollipop Sticks, Cutting tools, Frosting, Airheads, Edible Eyeballs (optional)
STEP 1: Cut an Airheads bar in half and roll the two pieces into spheres.
STEP 2: Create eyeballs using White Mystery Airheads as the larger circles. Cut two small sized circles from a Grape Airheads for the pupils. Place eyes on top of your spheres and press down to attach.
STEP 3: Take each lollipop stick and press them into the top of your cupcake.
STEP 4: Cut out another shape (a rounded rectangle is fun!) from an Airheads to make a monster mouth. (Tip: Cut out two circles from a White Mystery Airheads, cut them in half, and use them as teeth.) Cut a short length of a lollipop stick, wrap with a little piece of a bar, and attach your monster mouth to the stick.
STEP 5: Press the stick into the top of your cupcake and enjoy!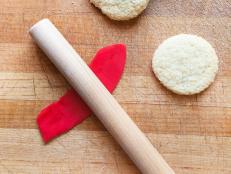 What's the best after-pizza dessert? More pizza! All this courtesy of some creative crafting and Airheads. Then, add your own favorite Airheads toppings once you've mastered our recipe. Perfect for Friday night family time! Sponsor article courtesy of Airheads®