Candy Craft: Cute & Crafty Kitty
Make a crazy-cute kitty face (or any of your favorite animals) using sugarcookies, frosting and Airheads. Get creative and up the cuteness!
Sponsor article courtesy of Airheads®
SUPPLIES NEEDED: Scissors, Airheads, Cookies, Edible Eyeballs (optional)
Step 1: Buy or bake sugar cookies, then frost with your favorite color.
STEP 2: Cut two strips from a Cherry Airheads and overlay them to make whiskers.
STEP 3: Cut a triangle from a Blue Raspberry Airheads and press on top of the whiskers to make a nose. Place in the center of your cookie.
STEP 4: Create eyeballs using White Mystery Airheads as the larger circle. Cut two small sized circles from a Grape Airheads for the pupils. (Or use edible eyeballs.) Add eyes to your kitty.
STEP 5: Cut two triangles from an Orange Airheads to make ears. Lay your cookie on top, making sure to position the ears evenly, and press down to attach.
STEP 6: Cut a small piece of Blue Raspberry Airheads and curl into a mouth.
STEP 7: Attach the mouth to your kitty's face and voilà!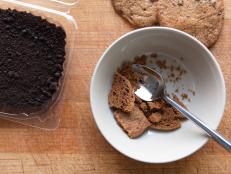 Who says eating your veggies has to be boring? You'll be harvesting these candy crops in no time. Sponsor article courtesy of Airheads®