Candy Craft: Creepy Crawly
Made from simple rolled shapes, these creatures are a perfect addition to your Airheads garden.
Sponsor article courtesy of Airheads®
SUPPLIES NEEDED: Lollipop Stick, Scissors, Airheads, Edible Eyeballs (optional)
STEP 1: Roll out a Watermelon Airheads. Roll lengthwise to form a cylinder shape (the body).
STEP 2: Curl one end around on itself to form the head.
Step 3: Create eyeballs using White Mystery Airheads as the larger circles. Cut two small sized circles from a Grape Airheads for the pupils. Add eyes. (Or use edible candy eyeballs.)
STEP 4: Cut a small piece of a Cherry Airheads and curl to make a squiggly tongue.
STEP 5: Attach to your creature and scare away!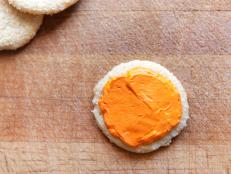 Make a crazy-cute kitty face (or any of your favorite animals) using sugarcookies, frosting and Airheads. Get creative and up the cuteness! Sponsor article courtesy of Airheads®