Candy Craft: Butterfly Friend
Make a beautiful butterfly buddy to take with you you everywhere. If you're feeling creative, make two or three more buddies and you'll have a whole crew of fun friends!
Sponsor article courtesy of Airheads®
SUPPLIES NEEDED: Lollipop stick, Scissors, Airheads, Edible Eyeballs (optional).
STEP 1: Cut a piece of your Airheads and roll into a sphere. Mount on top of a lollipop stick.
STEP 2: Create eyeballs using White Mystery Airheads as the larger circles. Cut two small circles from a Grape Airheads for the pupils. (Or use edible candy eyeballs.) Place eyes on top of your sphere and press down to attach.
STEP 3: Cut two small pieces from another lollipop stick and roll Blue Raspberry Airheads around them. Trim and mold around the stick to form antennas. Attach to orange sphere.
STEP 4: Take the rest of your Orange Airheads and wrap around the stick like a scarf and the press to secure in the back to form the butterfly body.
STEP 5: Make your wings. Cut a Cherry Airheads in half and then scrunch it together in the center to look like a bowtie. Attach to the back of your butterfly's body so he can fly.
STEP 6: Cut a small strip from a Cherry Airheads and curl to make a mouth. Attach and hooray! You have a friend to take with you everywhere.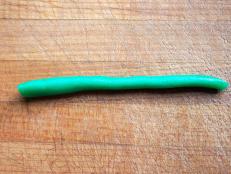 Made from simple rolled shapes, these creatures are a perfect addition to your Airheads garden. Sponsor article courtesy of Airheads®