Need to freshen up your outdoor space? Get 5 expert tips that are sure to awaken your outdoor space from the sleepy slumber of winter. Find products and more tips that can be used in your own space at Lowes.com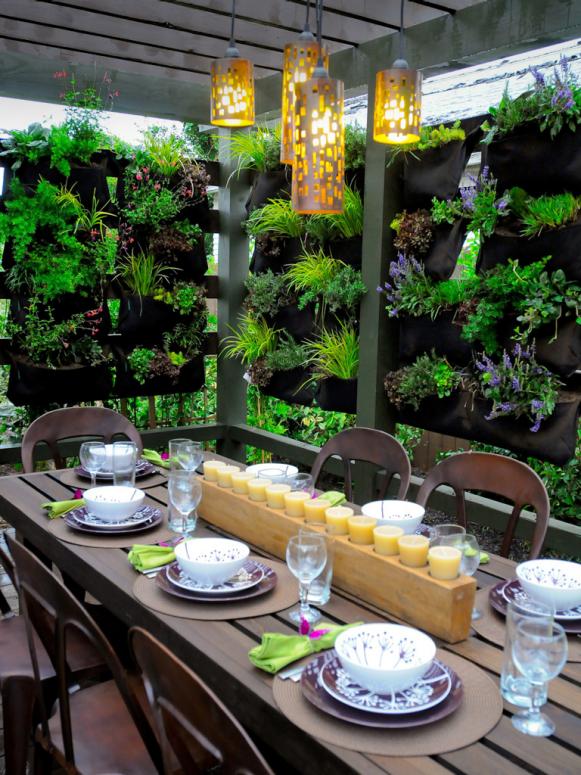 Living Privacy Wall
A small porch becomes a private party space with this imaginative makeover by landscape designer Jamie Durie, who created "pocket gardens" around the perimeter, forming a living wall.

Outdoor rooms require structure just as an indoor room to help provide intimacy and comfort. Some money-saving solutions for adding "walls" include: anchoring a wooden trellis in a large planter and hanging small pots of colorful flowers throughout; attaching sheer fabric panels to porch overhangs with metal hoops and hooks; or propping a reclaimed garden gate behind a bench or against a deck railing.


For proper visual balance, designers often group objects in odd numbers and also stagger their heights to keep the eye moving. This same principle applies to hanging planters. To fill an exposed corner of the patio, suspend a trio of hanging baskets with consistent spacing.

Tip #3: Furniture Options

Furnishing an outdoor room can quickly add up, but using creativity and some elbow grease will save your budget. Colorful spray paints are great for plastic furniture and don't require priming. Dress up other pieces with slipcovers and outdoor fabric pillows.


Often, outdoor rooms are used during the evening so providing lighting needs to be considered. Reuse holiday lights to add interesting, subtle lighting to an outdoor room.

Tip #5: Soften Hard Edges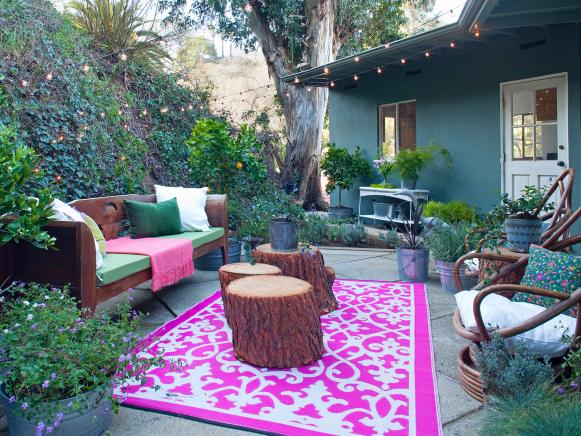 Bohemian Patio With Pink Outdoor Rug
A vibrant outdoor rug anchors this patio in pattern and color. A mix of rustic and tropical wood furniture, a few strings of lights and scattered container gardens create a bohemian vibe. In close proximity to the backdoor, this outdoor living room space is perfect for casual entertaining.

Adding a rug can add color and define the outdoor space. Transform a basic drop cloth into a one-of-a-kind outdoor area rug with a ruler, some painter's tape and stripes of your favorite bold hue. Or paint a faux rug on a patio floor using stencils and ordinary house paint. Seal with polyurethane for a long lasting accent.