Do you need a TV with a higher IQ? Learn what features to look for when shopping for electronics.
These days nearly every device in the home entertainment system is "connected," meaning that it will have the ability to access the Internet for content and services like Netflix, YouTube, Amazon Instant Video and more. But increasingly, the smart TV is vying for position as home-media hub, adding social networking, home networking, TV apps and more to the mix. This short guide will get you up to speed on the latest in smart TVs and help you decide if one is right for you.
"When planning for the installation of a smart TV, remember that the structure needs to be there to support dependable connectivity, including a jack behind the television that provides Internet connection," says Susan Keel, business development manager of Advanced Communication Specialists. Although a hardwired connection is preferable, many smart TVs have Wi-Fi capabilities. "Even if it has an Ethernet jack, that doesn't mean it has usable smart features," cautions Eric Landis, owner of All Sound Designs.
Next, check that the TV has the apps and services you are looking for. "Content is suggested via alliances with the best content providers and by what is most useful and the most popular," says Keel. As many of the manufacturers have proprietary technology, you will want to make sure that your TV supports the apps and services you value most.
Smart TV Features to Watch For
Download your favorite apps to play games or learn the latest in the stock market, sports scores and weather. ESPN and Turner Apps, for example, supplement Samsung Smart TVs ($500-$2,500, 32-55 inches) with additional info and trivia during a show.
Look for your best-loved social media apps. "With LG's Social Center app, you can tweet or Facebook your friends while watching TV. It's like watching TV with your friends no matter where they are," says Keel.
The capability to stream media from your smartphone or tablet, as well as from online sources such as YouTube, Netflix and Hulu Plus, is common among smart TVs.
Access home computers to play family photo slideshows, videos and more.
Many smart TVs allow you to mirror your smartphone or tablet on your TV.
Some manufacturers have apps that allow you to shop the shows you watch. Samsung has a "Shop the Shows" app, while LG is enabling its TVs (47-inch, $1,799 to 60-inch $2,899) with PayPal for easier home shopping.
Many higher-end smart TVs include built-in cameras that can do things like recognize the user and pull up his or her personal preferences. You can use the camera with other apps, like Skype, as well.
Smart TV or Outboard Smart TV Networked Media Player?
Should the smart TV win the war as media hub? The jury — that is, the consumer — is still undecided. Some installers think that the media hub should be easily upgradeable, an outboard box that is not hard to replace.
"Even if you have to get an entirely new box when the new model comes out, it is only $100 versus the cost of changing out the entire TV," says Landis. An outboard smart TV media player, like LG's $80 SP520 Network Media Player, will also work with your existing TV, meaning you don't have to buy an entirely new set. Boxes like AppleTV also have many of the functions of a smart TV. Of course, if you are looking to upgrade your TV, a smart TV could be just the thing to take your media room to the next — more brilliant — level.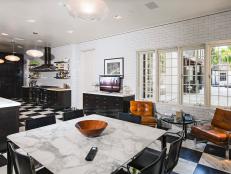 Planning a house-wide audio and video system? This guide will get you started on the path to music and video, everywhere.