Apartment Makeover by the Bay
Interior designer Blair Blincoe turned her San Francisco apartment from a bachelor pad into a coastal-inspired home with a stellar view of the Golden Gate Bridge.
In March 2008 interior designer Blair Blincoe took a leap of faith by quitting her Atlanta job, selling her car, packing her belongings into three suitcases and heading west to San Francisco.
The designer recalls, "I came and visited a friend, fell head over heels in love with the city, and knew it was meant for me. San Francisco is a city which once people visit for the first time, they truly don't want to leave. It's a designer's dream; everywhere you look, there's design inspiration from the colors of the sunsets, the amazing architecture and the cool, coastal attitude."
Although Blair didn't have a job lined up, nor did she have any professional connections with which to find one, her instincts told her that, as a designer in a city packed with so much visual inspiration, this was where she'd thrive. "Back East, I'd strictly worked assisting other designers," Blair explains. "I'd never truly had the opportunity to design 100 percent on my own. Moving to a brand-new city was a way for me to get out of that frame of mind and start developing my own personal style."
After sleeping on a friend's sofa for a few weeks while apartment hunting, Blair finally found the perfect place to consider as her West Coast home. She moved into the Pacific Heights neighborhood, sharing with two roommates a 1,200-square-foot apartment on the first level of a converted house.
In addition to the apartment becoming her new home, it became Blair's first chance to put her personal design skills to the test without the guidance or supervision of a more senior designer. Blair comments, "In many ways, I became my own first client. My apartment had tons of potential, and a few minor challenges which I'd have to work with to create a successful design which would also showcase my personal aesthetic." Unsure of just exactly what her own personal style was, Blair turned to San Francisco itself for guidance.
In order for the view to remain the main focus of the apartment, she decided to draw inspiration from it while also keeping the space light, airy and neutral. To capitalize on the view, she incorporated small-scale, low-profile furniture. The designer states, "Everything about my apartment is San Francisco-centric: The main focal point is the Golden Gate Bridge, most of my furniture pieces were found on the side of the road in Pacific Heights, plus they're Victorian in style, similar to many of the city's historic homes. My accent colors are drawn from the tones seen in the city's sunsets, and I've even got relics from the city itself which were used as literal references in the decor."
In its existing state the apartment's great room had a jaw-dropping, unobstructed view of the Golden Gate Bridge. Yet its bachelor pad decor and space plan were not only a disconnect from the stellar scenery, the placement of the TV totally distracted from the view. "Overall, my intention was to make room for that amazing view. It's probably one of the best views in the city," Blair adds.
To turn the bachelor pad-style interiors into the designer's first portfolio piece, Blair stuck with a budget of $4,500 and a timeline of approximately three months. Her to-do list included: creating dining room and living room space plans which would keep the view as the main focus; incorporating the colors seen outside the windows into the interior; adding lighting above the dining area; decorating her teensy-weensy 8-by-7-foot bedroom without it feeling cramped; dressing the great room's windows without distracting from the view; adding seating and storage to her entry; re-upholstering flea market finds; and working in lots of aged, weathered textures throughout the apartment.
Loree
AFTER. Before transforming the living and dining room area of her San Francisco apartment, Blair first had to rid the space of its lackluster, bachelor pad style and create a furniture plan which would capitalize on the view. With its new space plan in place, Blair created a living room area which allowed her roommates and guests to capitalize on the view from any seat.
First up was acquiring the proper furniture for her space plans. Blair comments, "Part of the reason I was able to work with such a small budget is because I found the majority of my furniture on the side of the road for free — yet another sign that I was meant to move to San Francisco!"
Brian Patrick Flynn
Just off the front door, Blair and her guests are greeted by an entryway packed with architectural detail. A pair of armchairs were snagged curbside a few blocks away on Franklin Street, a weathered, green side table was purchased for $5 from a neighborhood estate sale just a few weeks after moving in, and, to top it all off, a vintage life preserver is a nod to coastal style.
After just a few days in the apartment, both Blair and her roommate Joanna came across antique pieces that were on neighbors' curbsides. The designer adds, "San Francisco is packed with flea markets and estate sales, which makes it pretty easy to furnish homes affordably. Since my entire entryway is now packed with furniture I didn't pay for, I was able to spend more on furnishing the living room, dining room and bedroom."
Using her found pieces as a starting point, Blair noticed a few recurring design elements between them: traditional lines, Victorian touches and weathered, coastal finishes. The designer comments, "This whole process helped me figure out that my personal style is casual, classic and airy, with a slight touch of farmhouse. I like things to feel pretty and streamlined but also warm and lived-in."
While most of Blair's found pieces were discovered with existing weathered finishes, she put her own do-it-yourself skills to the test by refinishing some of them herself using steel wool and sandpaper. The designer gives a few tips: "When refinishing furniture yourself, keep in mind that sandpaper is great for flat surfaces and perfectly straight edges, but it's not ideal for curves and pieces with lots of nooks and crannies. That's where steel wool comes in; it works great for rounded corners and on surfaces with ornamentation."
Blair put her skills to the test in several other ways when designing the apartment. First up, she created custom lighting for the dining area by outfitting basic, white paper empire lampshades with swag pendant kits and adding detail with paint. Blair explains, "There was no lighting in my dining room. I didn't want a chandelier or anything substantial to detract from the view. I made the pendants with $12 swag kits from the hardware store. I got a custom look without the custom price by screwing swag hooks into the ceiling, and using painter's tape and a quart of taupe latex paint to add a band of contrast to the bottom."
Some of Blair's other do-it-yourself upgrades included: adding casters to a pair of armchairs, replacing heavy hardware on her sideboard with pastel-toned glass knobs, reupholstering a two-seater sofa and adding horizontal stripes to her bedroom walls.
When asked about lessons learned from her first San Francisco design project, Blair replied, "I think the best way for people to figure out their personal style is to find a few key pieces they're drawn to, then look to texture and color to make them work together. Since most people aren't attracted to only one particular design style, there's got to be breathing room to allow several different styles to exist harmoniously. Plus, you've got to accentuate any architectural details or existing characteristics of your home."
Now that Blair is settled into her beloved new city by the bay, she's not only adapted to life on the West Coast, but also is a fully-employed design professional. Blair notes, "I'm coordinating design projects for a fabulous San Francisco design firm called Tamara Mack Design. My place helped prepare me for everything I deal with on a day-to-day basis." While the designer has gotten used to the gorgeous year-round weather and living a lifestyle that doesn't require a car, there's one thing that she will never fully get used to: morning coffee with her unofficial roommate, the Golden Gate Bridge.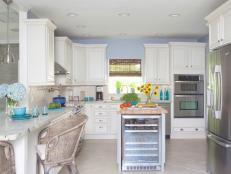 Christina Moore's love for cooking turns an inefficient kitchen into an airy, coastal-inspired space where she can whip up gourmet meals for her family.
Join the party! Don't miss HGTV in your favorite social media feeds.
The Latest From Our Design Blog
Catch up on the latest HGTV show and design news right here.