Choosing a Bathroom Backsplash
Get tips on how to make the walls of your bath express your style
Backsplashes are bathroom jewelry—where you can express your personal style and add punch to a neutral space. Tilework is an art, and the materials available to create interesting designs range from recycled glass to metallic mosaics to interestingly cut ceramics, such as hexagonal and octagonal tiles.
"Some glass tiles look like they were washed up by the sea—very soft, honed," says Ellen Rady, designer/president, Ellen Rady Designs, Cleveland, Ohio. The flip-side is shiny subway tiles in sleek white or bold brights, she adds.
All-around tile. Designers are taking that tile from floor to ceiling, not just in the shower.
Spa calm. Incorporate natural tiles in colors like sea greens, taupes, browns, grays and ivories.
Pop goes the color. Incorporating recycled glass mosaic tiles sporadically in a wall tile design using colors found elsewhere in the space adds interest without overwhelming the eye. "If you install a whole wall of recycled glass, it's too busy," Perrin says. "But using a pattern [of mosaic tile] throughout the bathroom on the floor or walls gives the room a bigger feel and a little more character."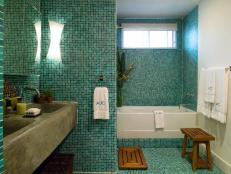 Learn how to avoid leaks and excess moisture build-up on walls, ceilings and floors.
Join the party! Don't miss HGTV in your favorite social media feeds.
The Latest From Our Design Blog
Catch up on the latest HGTV show and design news right here.