7 Shrubs for Shade Gardens
See our favorite shrubs that flower and flourish in the shadows.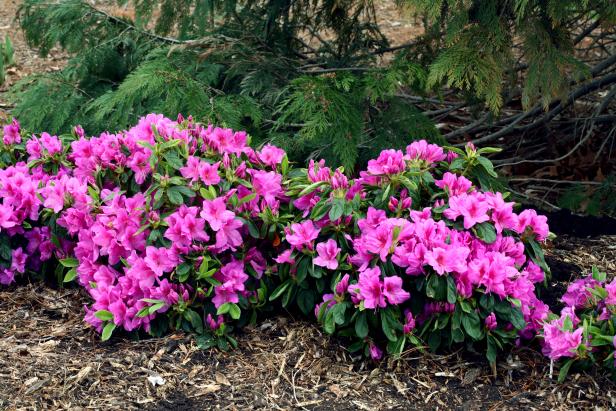 Rhododendron 'Bloom-A-Thon'
'Bloom-A-Thon' rhododendrons, commonly known as reblooming azaleas, produce white, pink, lavender or red blooms in spring. After a brief rest, the flowers start up again in summer and fall. These evergreen, drought-tolerant shrubs need shade to part-shade and are hardy in zones 6b to 9b.
Image courtesy of Proven Winners
'Bloom-A-Thon' rhododendrons, commonly known as reblooming azaleas, produce white, pink, lavender or red blooms in spring. After a brief rest, the flowers start up again in summer and fall. These evergreen, drought-tolerant shrubs need shade to part-shade and are hardy in zones 6b to 9b.
Most of us dream of the day when our gardens mature. We envision tall, leafy trees and mounds of blooming perennials, moss-covered statuary and cool, sheltered spots to stroll or sit.

Then reality sets in. When those trees grow up, they shade everything underneath, and we can't grow many of our favorites anymore. Many plants need more light than our gardens can offer, and we have to give up on roses, tropicals and other sun-lovers.

Luckily, we have alternatives, especially when it comes to growing shrubs in the shade. There are some spectacular standouts we can enjoy, including climbing hydrangeas, Euonymus, red and yellow twig dogwoods, elderberries, ninebark, spirea and others.

Keep in mind that some shrubs can take almost full shade, but others need so-called bright or high shade—in other words, dappled light or morning sun. Still others are versatile enough to grow even in the sun. Here are seven of our favorites for shady spots.
Oakleaf hydrangea – Hydrangea quercifolia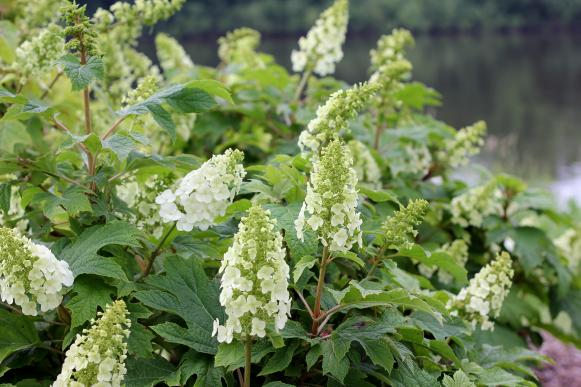 'Gatsby's Gal'
Smaller than other similar hydrangeas, 'Gatsby's Gal' has impressively large flowers and lots of them. Full panicles of white blooms are held upright above the foliage. Flowers are quite large relative to the plants compact size. A native plant. Will reach a height of 5-6 feet and is hardy to zone 5.
Image courtesy of Proven Winners
For a nearly carefree shrub, you can't beat this native hydrangea. Its leaves change from bright green in summer to stunning red, purple, burgundy and bronze in fall, and its white flowers take on a pinkish tinge as they mature. These shrubs will thrive in morning sun with afternoon shade (especially in hot climates) or in full shade. They prefer well-drained, slightly alkaline soil with lots of good organic matter. Keep them watered during the first year after planting. They're hardy in zones 5b to 9.
Rhododendron – Rhododendron spp.
Shade tolerant "rhodies," as they're also known, are hardy in zones 5 to 9 (some are hardy to zone 4). Azaleas—another great choice for shady spots—are in the same genus as rhododendrons. Both like filtered sunlight or part shade, acidic soil and moist, cool summers. Both also have shallow root systems, so don't plant them under shallow-rooted trees that will compete for water and nutrients. They like deep, regular waterings, but should be planted where the soil drains easily. Pine straw, if available, is a great mulch for these acid-loving shrubs.
Virginia sweetspire – Itea virginica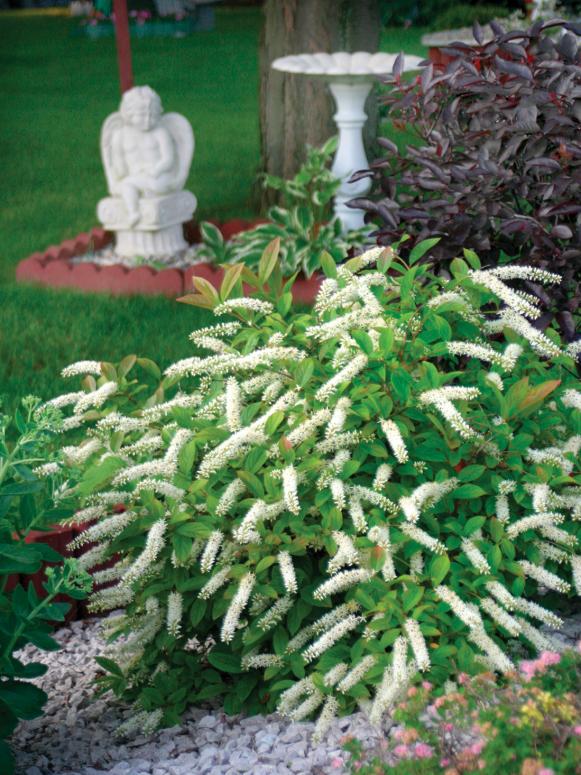 'Little Henry' Virginia Sweetspire (Itea virginica 'Little Henry')
This native shrub is a summer bloomer, opening spikes of tiny white flowers from early to mid-summer. Blossoms have a sweet fragrance that pollinators like butterflies and bees can't resist. Virginia sweetspire is versatile, thriving in partial to full shade in wet or dry soils. Clip suckers to prevent plants from forming dense colonies. 'Little Henry' is a dwarf hybrid suitable for small yards. Hardy in Zones 5 to 9.
Image courtesy of ProvenWinners.com
Hardy in zones 5 to 9, this deciduous shrub grows 3 to 4 feet high and spreads 4 to 6 feet across. Fragrant, tiny white flowers appear in May and June, held on drooping stems. Sweetspire is easy to grow and tolerates many growing conditions, including heavy shade, clay soils and wet soils, so you can even use them in a rain garden. While they're fine for part shade, they'll also take full sun.
Serviceberry – Amelanchier spp.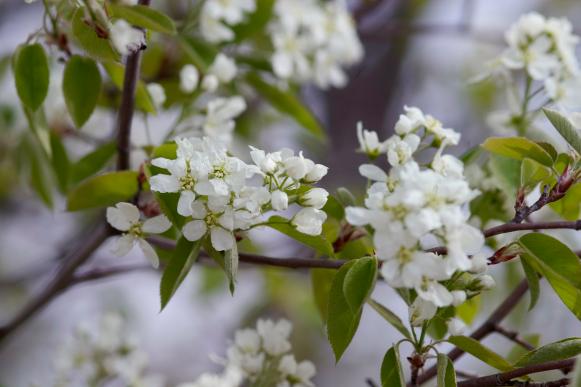 Allegheny Serviceberry (Amelanchier laevis)
A hearty native tree, serviceberry forms a multi-stemmed clump if left unpruned. Alternately, prune to one main stem for an eye-catching small tree. White flowers appear in early spring followed by fruits that ripen from pink to deep purple. Fall color is spectacular with orange, gold and red. Grows 15 to 30 feet tall by 10 to 15 feet wide. Hardy in Zones 4 to 8.
Image courtesy of Bailey Nurseries, Inc.


Undemanding serviceberries are natives that grow almost anywhere, even in damp soils and deep shade. Look for white blooms in early spring followed by edible berries in summer, and orange, red and gold foliage in fall. These plants—also called mountain blueberries, shadbushes and Juneberries—need moist, well-drained soil that ranges from neutral to acidic (a pH of 5.5 to 7.0). The more sun you can give them, the more berries they'll produce. Serviceberries are deciduous and can grow into small trees if left unpruned, maturing at 10 to 25 feet tall. Grow them as a screen or use them as specimen plants. They're ideal for woodlands and natural areas.
Japanese pieris - Pieris japonica
Happy in full sun or in part shade with protection from the afternoon sun, Japanese pieris is a broadleaf evergreen shrub that grows 4 to 8 feet tall. Hardy in zones 5 to 8, the plants need rich, acidic, moist soil that drains easily. White blooms with an unusual upside-down, vase-like shape open in spring. After the flowers finish, the new leaves that grow are bright red. But be warned: leaves and nectar from the flowers are highly toxic. Do not grow these plants around pets or children.
Bottlebrush Buckeye – Aesculus parviflora
Native to the southeastern U.S., these deciduous plants are showstoppers in the summer. That's when they produce their showy, white flowers, studded with red anthers (the part of the flower that makes pollen). In fall, the green leaves turn yellow and inedible nuts called buckeyes are formed. The plants are nearly carefree, fine for growing in borders or natural areas. They're hardy in zones 4 to 8 and mature at 8 to 12 feet high with an 8- to 15-foot spread.
For fragrant, shade-tolerant shrubs, you can't beat Daphnes. Depending on your climate, they may lose their leaves in fall or stay semi-evergreen. Daphnes like moist soil that drains easily and a neutral to acidic pH. Keep them well mulched. 'Carol Mackie' is a popular cultivar that grows 2 to 3 feet high and 3 to 4 feet across. Its pale pink or white flowers open in spring and form small red berries. You'll get more blooms if you give the plants part sun, but the foliage, which is gray-green with creamy-white edges, is attractive in itself.