'Last-to-Go' Box Checklist
After a long day of moving, the last thing you'll feel like doing is rooting through boxes to find your toothbrush. Pack these items into a "special box" that stays with you on moving day.
Keep this box off the moving truck and close at hand -- the stuff inside will probably come in handy at some point during the day.


ID
Your wallet, checkbook, and/or ATM card
Bottled water
Toothbrush, toothpaste, and soap
Any prescription medications
Aspirin
Cell phone and charger

Snacks that don't require refrigeration or cooking (granola bars, nuts, bread, PB, etc)
Paper cups, paper plates, and plastic utensils
Towels
Sheets
Scissors and tape
Closing documents if you're buying a new home
Important files
Medical records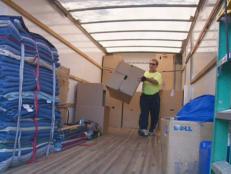 Moving Checklist
Use this week-by-week checklist to plan your move to a new home.