Find out whether fungus growing on mulch can harm surrounding plants.
Q: Growing in the mulch along the edge of my flower bed is an ugly fungus — it's brown and curly, like lasagne pasta. Is this harmful?
A: Fungus grows on mulch occasionally as part of the natural decay process. It tends to appear more often in wet weather and will disappear when conditions no longer favor it or when the mulch breaks down sufficiently. It will not harm your plants. Neither will white mold, which also sometimes forms on the top of mulch.
— National Gardening Association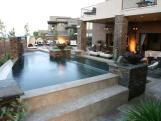 Browse beautiful photos of our favorite outdoor spaces: decks, patios, porches and more.
We're serving up the latest news, gorgeous style, DIY projects, clever entertaining tips & more.