Tour Designer Susan Hable's Georgia Garden
Through trial and error, this designer has found a way to express her artistic style and discover inspiration at home.
Photo by Angela West
One of Susan Hable's favorite parts of her garden is variegated porcelain vine covering the screened porch. Globe string lights connect the screened porch to a guest cottage.
Susan Hable, known for bold colors and hand-drawn patterns in her textile designs, struggled with color when she started transforming her dirt-filled Georgia yard into a garden. She was used to buying beautiful blooms from vendors in New York's flower district when she lived there. When she would go to a nursery, she would pick plants bursting with color, with no knowledge of how to keep them alive once she planted them.
"I always killed all my houseplants," she says.
She and her husband, Peter, purchased their Victorian cottage in Athens, Ga., in 2006 and spent three years renovating the home. As for the garden, Hable, who had lived in apartments in San Francisco and Manhattan, had no experience with plants.

After they moved into their Athens home in 2009, Hable tried to tackle the yard but found she was not knowledgeable about her soil and which parts of her yard were wet and dry. She had her soil tested and learned from a neighbor to outgrow her garden naivety, without sacrificing color.

Hable began to understand how complicated it was to grow favorite flowers, such as 'Pearly Gates' and English roses, which are now in her garden. She was inspired by Victorian and Nantucket gardens, bringing in design elements such as lattice and arbors and old-fashioned plants, such as pearl-bush.

Her work and book, A Colorful Home: Creating Lively Palettes for Every Room is inspired by her garden and color choices in her renovated cottage. Her studio—built from two former mill houses—is at the other end of the backyard. She often strolls the garden and snaps Instagram photos of plants that inspire her.

"I wanted my yard to be more artistic," she says. "I knew then, and I still know, that everything that I plant really enriches my day."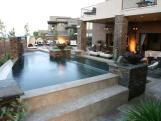 Browse beautiful photos of our favorite outdoor spaces: decks, patios, porches and more.
We're serving up the latest news, gorgeous style, DIY projects, clever entertaining tips & more.