Great Escapes: Dealing With a Too-Big Deck
An oversized deck in Georgia gets a makeover to foster hospitality.
The view from atop the hill sweeps down a bluff to the scenic Chattahoochee River, but few people were lingering to enjoy it from this deck in Sandy Springs, Georgia.
"This project started with an existing deck, about 600 or 700 square feet, that was so large, unpleasant, and out of scale with the house that it became virtually useless - a vast wasteland of ideal real estate," says architect Rick Goldstein, of MOSAIC Group. "It was too open and sunny, so it was hot in the summer."
Since the deck also provided a valuable link to the backyard and the pool area, it desperately needed scale, proportion, shade and purpose, a truer sense of connection to the beautiful, rolling landscape around it. This was the challenge presented to us when we first met the clients - more an issue of function than style."
The firm began by dividing the sprawling deck into smaller, discrete outdoor rooms that lead into each other and "draw in" visitors. "We didn't want to make it beach-like, but we wanted to respect the water elements - the pool and the river - and the Mediterranean influences on the rest of the house."
He raised the fire-pit terrace up a step to lend height variation; added a covered roof to the pavilion for shade; reconfigured the stairs; and changed the flooring material from tongue-and-groove composite decking to cut bluestone. The masonry floor makes the area feel less "deck-like," Goldstein says, and ties it visually with the stone pool deck below. He opted for exotic hardwood and a bluestone tabletop to custom-design and field-fabricate the fire-pit itself, which is surrounded by treated wicker furniture.
The grill area in back is covered by a small roof to allow cookouts in any weather, and it is strategically positioned between the covered porch and the fire pit terrace to service both rooms efficiently.
The deck itself was transformed into a smaller, softly lit area for more intimate gatherings. "To achieve the original goals of the client, we had to modify the footprint slightly along with the stairs to accommodate the final result," Goldstein says. "We carefully planned the lighting for nighttime entertaining."
The result? Memorable gatherings.
"I stayed in touch with this clients and have attended several outdoor parties at their house," Goldstein says. "They're using absolutely every square inch of that space now, and it's good to see 60 people enjoying that deck with its view."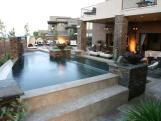 Browse beautiful photos of our favorite outdoor spaces: decks, patios, porches and more.
We're serving up the latest news, gorgeous style, DIY projects, clever entertaining tips & more.