Why pay others when you can complete a landscaping project yourself?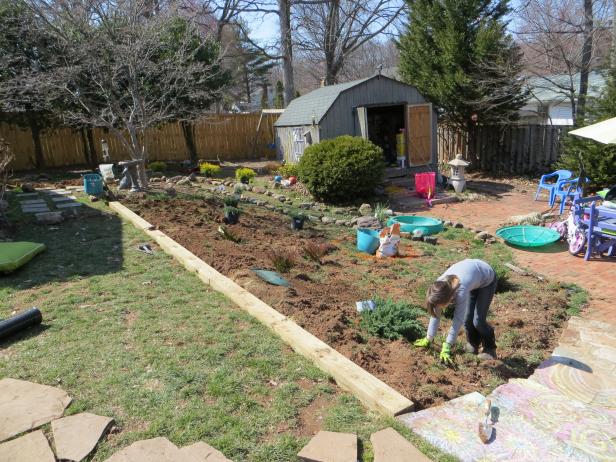 Here you can see the landscape timbers set into place. We drilled holes with a long drill bit and sledge-hammered in 18"-24" long pieces of rebar in three places on each beam to secure them into the hillside. The beams create a nice transition between the grass and the mulch bed and the kids use them as balance beams.
Do-It-Yourself landscaping projects must be more satisfying, right? And fun, too? If not, then why else would any of us tackle our own landscaping tasks? D.I.Y. landscape design can be rewarding – and budget friendly, as well.
Below are a few tips for do it yourself landscape design projects:

Install new grass: aerating and reseeding doesn't have to be handled by a pro. If your grass needs a boost every spring and fall, consider renting a small tiller (if you don't have access to one) and church gently through your yard at a depth of about an inch. Follow tilling with pre-treated seed and straw. Water daily. Fertilizer can burn seedlings, so wait until the grass stand is about a month old before feeding it chemical fertilizers. If switching grass species, till the yard at a 3-inch depth and make sure to rake the yard well after tilling to avoid cross contamination with old clippings. Sodding a yard is slightly trickier, only because it requires that the ground beneath be cleaned and prepared to accept the sod. Consult your local garden center to see if you're up for the task.

Add a water feature: Water features add ambience to your yard. They vary in degrees of difficulty, but you can install a water feature yourself without worry if you follow the directions on the packaging. First, decide if you would like to add a freestanding feature that simply needs to be assembled and plugged in or if you're creating a water feature area in your yard in which you will need to install a reservoir basin and bubbling water kit. Consult with your local garden center to determine which kit will work best for your project, then get creative! Once you dig the trench and install the reservoir, you can enhance its surroundings with natural rocks, flat stones, tiles, bricks or concrete and short groundcover plants. You can add aquatic plants such as lily pads for full effect!

Build a border: Landscape timbers, railroad ties and short retaining walls for flower beds or raised bed gardening are easy do it yourself landscaping projects that have long-lasting impact. Draw up a simple landscape design plan for the area you plan to border and make a list of materials you'll need – the border itself, fill dirt/topsoil, plant life and tools. Building borders make take a little elbow grease, but your creation will be worth years of enjoyment!