How to Make a Santa Sack Stocking
Put a playful spin on a classic holiday stocking with a handmade Santa sack that's straight from the North Pole.
21.5 x 46" gold burlap
21.5 x 46" red ticking fabric
heavy-duty fusible web tape
red yarn
yarn needle
grommets and grommet setter
hammer
scissors
tape measure
pencil
iron
Iron both fabrics smooth and layer on top of one another, back to back (Images 1, 2). Measure and mark a section of fabric 21.5 x 46" long (Image 3). Cut out fabrics (Image 4), giving you two pieces – one piece of ticking fabric and one piece of burlap at this dimension.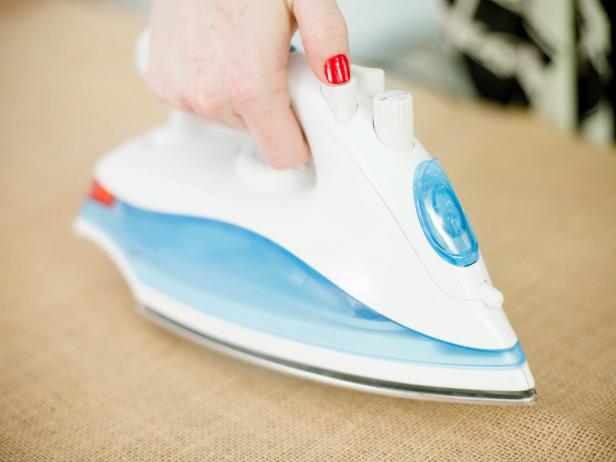 Flynnside Out Productions
IMAGE 1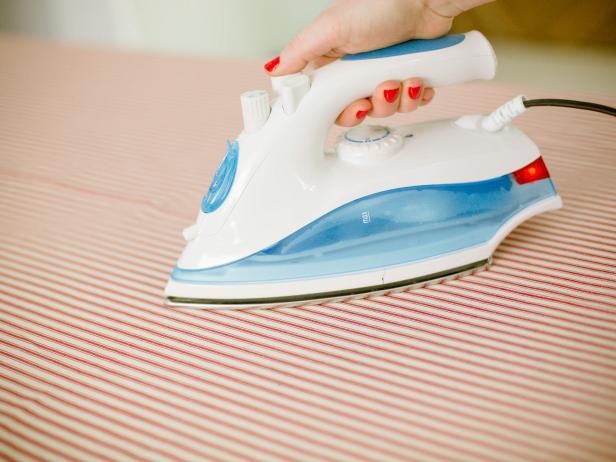 Flynnside Out Productions
IMAGE 2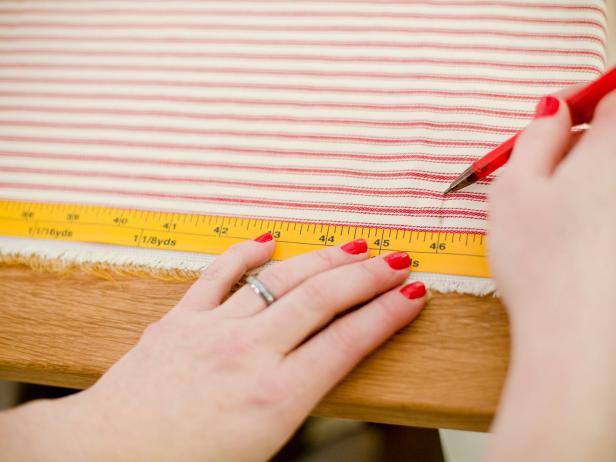 Flynnside Out Productions
IMAGE 3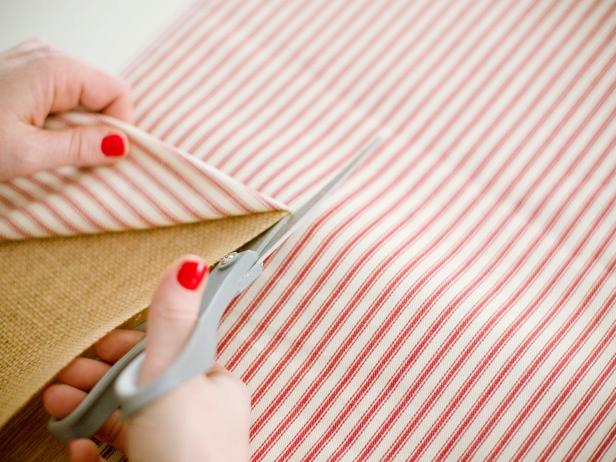 Flynnside Out Productions
IMAGE 4
Line up the ticking fabric and the burlap along the long edge, then roll out the fusible web tape and cut to size. Attach the two pieces of fabric together, back to back, by activating the tape with an iron.
Fold the fused fabrics in half and fuse the long edges with tape and an iron, so that the burlap is on the inside.
Once the edges are fused, gently turn the sack inside out so that the burlap is facing out and the sack is lined with the ticking fabric. Fold the top edge over a couple of inches and set aside.
Download and print the designs onto transferrable paper. Cut the text into strips (Image 1) so that you can better adjust the layout on your fabric (Image 2).
Once the overall design is in place (use the ticking stripe as a vertical
guide), iron the entire design face down onto the front of the ticking fabric (Image 1). Peel back the transfer paper (Image 2) and trim excess fabric (Image 3).
Center up the ticking fabric panel over the burlap sack and sew into place using a yarn needle and red yard. A simple whip stitch along the edges will hold the panel securely in place.
Once you determine the grommet's placement in the upper corner of the sack, make a mark using a pencil (Image 1). Snip a hole through the fabrics; this is where you'll slip one side of the grommet through from underneath (Image 2). Next, using a hammer and grommet setter, attach the top side of the grommet and set into place (Image 3).
Display your new DIY stocking on the mantel using a stocking hanger. For a more whimsical approach, fill with small gifts and place underneath the tree.