Halloween Craft: Mini Pumpkin Lanterns
Decorate your walkway or garden path with these delightful mini carved pumpkin lanterns.
Did you know that carving pumpkins can be traced back hundreds of years to Ireland? Prior to coming to America, each All Hallow's Eve the Irish would carve out turnips, rutabagas, turnips and potatoes. They would then place burning embers in them to help ward off evil spirits. In the 1800s Irish immigrants in America discovered that pumpkins were much easier to carve than the traditional root vegetables. The tradition of carving pumpkins was born.

As it is for many around the world, carving pumpkins has become a family tradition and fun filled afternoon. With newspaper spread out on the picnic table, we dive right in. One by one the grown-ups carve the lids off the pumpkins and the little hands of the family scoop out the "guts." Then we carve out the imaginative faces dreamed up by our children.

This year we found mini pumpkins. They were too cute not to try and carve. We turned them into hanging lanterns. What a fun way to welcome this year's trick or treaters! Here is what you will need to get started.

Supply List:

Mini Pumpkins
Small shepherd hooks
Sharp knives
Garden twine
Drill
Scissors
Flameless tealights

Now take a peek at the gallery below and the accompanying captions for the full step-by-step tutorial:


The Latest From Our Blogs
Catch up on the latest HGTV show and design news right here.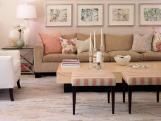 Found a living space you love in HGTV's Photo Library? Get the look in your own home with products from Wayfair.