Make a Fall-Inspired Mason Jar Votive
Acorns, garden twine and shimmering paint come together to create these easy-to-make votives.
One of my favorite things about the fall is the colorful foliage and the arrival of acorns.

Acorns hold a special place in many cultures. They are thought to symbolize strength, power and bring good luck. Acorns are actually seeds in the form of a nut from oak trees. During the late summer and fall, ripe acorns fall to the ground and are scavenged by wildlife. If you are lucky and quick enough, you can harvest some of your own for crafts. They come in all colors, shapes and sizes.

Last year, we made leaf people with acorn hats. This year, I wanted to create votives decorated with acorns. One of my favorite ways to create ambiance, both indoors and out, is with candles. Whether it is at the dinner table, on the mantle, or outside during a gathering, to me, there is nothing like the glow and flicker from a candle.

This acorn Mason jar votive is fun to make and comes together in a cinch. New to the market is spray paint with a translucent tint of color. I was so eager to try it out with this project. The spray paint comes in many different colors and can be applied to fabric, glass, wood and metal. For this craft, I coated the Mason jar with just one thin layer.

This is an easy craft for someone with any level of crafting experience. This was so fun to make that I've decided to make a few extras to use as hostess gifts for the annual Halloween party and our family Thanksgiving dinner. You will only need a handful of supplies to get started and about half an hour to complete this project, including the time it takes for the paint to dry. Here is what you will need to get started.

Supply List:

Quart size Mason jar
Tinted spray paint
Acorns
Glass votive candle holder
Tea light
Garden twine
Newspaper
Now take a peek at the gallery and accompanying captions for the entire step-by-step tutorial:

The Latest From Our Blogs
Catch up on the latest HGTV show and design news right here.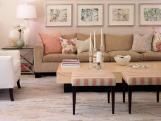 Found a living space you love in HGTV's Photo Library? Get the look in your own home with products from Wayfair.