How to Make Rainbow Flowers
Food coloring and imagination bring pops of color to white blooms.
There was a sale this week on white carnations at the grocery store. They were beautiful and begged to come home with me. Once home, I arranged them in a clear glass vase and placed them on the kitchen table. I stepped back to admire them and they faded into the snow-filled wintry scene out the window. Something was missing. Everything was too white. They needed some color.

Suddenly, I recalled tinting flowers in grade school as a science experiment. It was fun to turn white carnations colors. So, I called the kids and reached for the food coloring. It was time to have a little fun and experiment with flowers!

Plants use their root system and stems to transport water and nutrients to the entire plant including the flowers. Water travels up the plant's stem to the leaves and blossoms via the xylem. Today, colored water would be taking plain water's place. We decided to make all the colors of the rainbow.

Over the course of a day, we watched the flowers change as we ate breakfast, lunch and dinner. Each hour, the blooms were a bit different. Color seemed to bunch up on the tips of the petals.

White flowers that would work well for this experiment include carnations, daisies and roses. Different flowers soak up the tint to various degrees, but carnations work especially well.

This is a perfect spring time craft that adds a little pop of color to these dreary winter days.

Here is the supply list to get you started.

Supply List:

White flowers
Food coloring
Water
Cups
Scissors
Sharp knife
Cutting board
Take a peek at the gallery below to add your own color combinations to your favorite white blooms:

The Latest From Our Blogs
Catch up on the latest HGTV show and design news right here.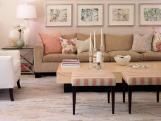 Found a living space you love in HGTV's Photo Library? Get the look in your own home with products from Wayfair.