How to Make a Living Air Plant Wreath
Create a living wreath with tillandsia, moss and elements from your landscape.
As the fall days usher in cooler weather, there are signs that the garden is getting ready for its slumber. This is the time when I discover beautiful things to incorporate into my crafts, from blueberry bush branches, faded climbing hydrangea blossoms, pine cones, acorns, fall colored leaves, seeds and milkweed pods. As the seasons change, the gardens change too.

During this time of year, I am constantly thinking of ways to bring the outdoors inside. One very easy way to do that is by introducing tillandsia, or air plants, into my home. I love them because they require very little care and can survive a bit of neglect. If I had to admit to a gardening addiction, air plants would be right up there!

Tillandsia are part of the bromeliad family. They thrive in good filtered light and enjoy a misting of water at least once or twice per week. They also love a place with good air circulation. This is because they require no soil and get their nutrients and water needs through their leaves. This makes them perfect candidates for a wreath.

To make a wreath of your own, head outside with a pair of garden clippers and see what you can scavenge from your surroundings. Here are the supplies you will need to get started.

Supply List:

One wire wreath frame
Sphagnum moss
Green floral wire
Scissors
11 air plants
Garden elements like branches or flowers

Twigs
Now take a peek at the photos and accompanying captions in the gallery below for all the step-by-step instructions:

The Latest From Our Blogs
Catch up on the latest HGTV show and design news right here.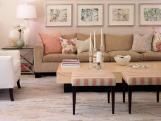 Found a living space you love in HGTV's Photo Library? Get the look in your own home with products from Wayfair.