Drying Flowers: Preserve Your Favorite Blooms With These Simple Steps
Learn how to press flowers from the garden.
Sometimes flowers are just too pretty to last just a few days or weeks. Often I snip a few lovely blossoms from the garden and press them, drying them for later use. I add them to note cards, jewelry and artwork. The process itself is simple. There are professional flower presses on the market, but I find a large book works just as nicely.
Two sheets of wax paper or plain white paper
Follow the steps in the photo gallery below to learn more about the process.
The Latest From Our Blogs
Catch up on the latest HGTV show and design news right here.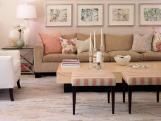 Found a living space you love in HGTV's Photo Library? Get the look in your own home with products from Wayfair.