Woodland elements come together to form a garden-inspired pumpkin.
I love fall, and I adore pumpkins. I also love being able to bring the the outdoors in when I can't spend as much time as usual in my garden.
When I was a little girl my parents would go off into our large wooded property and collect vines each fall. When they returned, my sisters and I would help them wrangle and wrap the vines into wreaths, which my mother took great pride in decorating for the fall and holiday seasons. Unfortunately where I live, we don't have those vines, but I didn't let it stop me. Those fond memories served as this craft's inspiration.
Grapevine wreaths come in an assortment of sizes and are readily available all year round at craft stores. For this pumpkin, I used the six inch size. If you decide to make a few of these pumpkins, try varying the sizes of the wreath. Alone or in a grouping, they make a lovely accent to any room of the house.

Six 6" grapevine wreaths
One 8-10" length of branch approximately 1-1/2 inches wide.
Hot glue gun
Floral wire
Scissors
Wire cutters (optional)
Take a peek at the photo gallery for the step-by-step guide:
The Latest From Our Blogs
Catch up on the latest HGTV show and design news right here.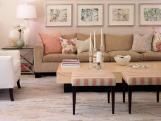 Found a living space you love in HGTV's Photo Library? Get the look in your own home with products from Wayfair.