DIY Gift-Wrapping Ideas: Okra Gift Wrap
Let your child's creativity flourish with these easy-to-make okra pod stamps.
The vast array of patterns present in the natural world are staggering.

From the exquisite spiral of a sunflower head to the hexagonal beauty made manifest in honeycomb, patterns of every array imaginable make the natural world a visual delight. Whether during a forest hike, simple garden tour or farmer's market meander, encourage the children in your life to keep a look out for examples of naturally occurring patterns.

Apple and potato halves have long been employed in children's crafting, owing to their unique pattern (as is the case with apples) and ability to be manipulated into infinite shapes (as is offered with potato cuttings). Using fruit and vegetable motifs as a point of inspiration, I looked to my garden for what other crops might offer interesting patterns. Though they might not be the first thing to come to mind, okra pods contain a lovely floral motif when cut open.
So put these double duty craft and food crops to use. After rendering a few into pickles or fried rounds, gather a handful and put them to use crafting. Okra pods make fabulous stamps, picking up just the right amount of paint to be pressed into a stunning, visually intriguing design. Stamped onto brown craft wrapping paper or onto craft gift bags, the pods can be pressed in a chevron pattern, on the diagonal, into a spiral, in contrasting color lines, or simply spread out randomly. The combined effect is quite pretty, and, when later used for gifting purposes, serves as a testament to both the beauty and bounty of summer. The pods can also be stamped onto a cardboard round, creating an original piece of art for your child's room or a display area for their art in your home.

Click the gallery below for step-by-step instructions.

Materials for Okra Stamps:
Several fresh okra pods
Small pointy tip knife
Assorted colors of gouache paints
Paper plates or paper bowls
Scraps of paper
Brown craft paper bags, gift wrap, or cardboard disks (from frozen pizzas)
The Latest From Our Blogs
Catch up on the latest HGTV show and design news right here.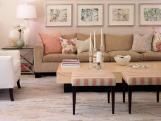 Found a living space you love in HGTV's Photo Library? Get the look in your own home with products from Wayfair.