DIY Garden Hose Basket Project
Treat Dad to a versatile, one-of-a-kind basket to use around the garden.
If there is one thing that anyone who putters around the yard needs, it's a garden basket. The right garden basket can be incredibly handy. It can be used to store freshly harvested fruits, vegetables and herbs. You can wash your freshly-picked produce in it. It can also be used to tote hand held tools, twine, tiebacks for plants and even pulled weeds.
This year, the kids and I decided turn an ordinary garden hose into a versatile and fun garden basket. With a quick trip to the hardware store, we had everything we needed to get creating. A basket like this would be perfect to give for Father's Day. To make Dad's day special, we could also fill the basket with tools, garden gloves, assorted potted plants or even beer!
The basic idea came from those grade school clay coil pots that we all seemed to have made at one point or another. Instead of clay, we used a hose. By coiling and winding the garden hose upon itself and fastening it into place with zip ties, you can create any shaped garden basket. This basket is oval, but you could also do a longer flat basket or one that is more circular without handles. The possibilities are all part of the fun. Our finished oval basket with handles is approximately 20 inches in diameter and 10 inches high. Here is what you need to get started:

One 50-foot garden hose
One hundred 8-inch zip ties
Scissors
For the entire step-by-step tutorial, take a peek at the photo gallery below and the accompanying captions:
The Latest From Our Blogs
Catch up on the latest HGTV show and design news right here.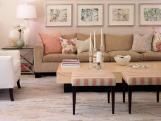 Found a living space you love in HGTV's Photo Library? Get the look in your own home with products from Wayfair.