Craft a Holiday Kissing Ball
Learn how to make this classic holiday decoration with evergreens from your yard.
Kissing balls are rich in history. People have been creating them for hundreds of years during the holiday season. Some are created from assorted greenery and others are made from mistletoe.

I love decorating with kissing balls. They looks so pretty hanging by my front door. Typically, pre-made kissing balls can be pretty pricey at local garden centers this time of year. They are not difficult to make, and the best part is that most of the required elements can be found in your own backyard. This year, why not try making one yourself? I love to do this as a family project. It is that simple!

Take a peek at the gallery below for step-by-step directions and photos:

The Latest From Our Blogs
Catch up on the latest HGTV show and design news right here.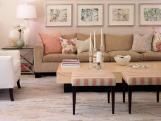 Found a living space you love in HGTV's Photo Library? Get the look in your own home with products from Wayfair.