Animal Collectibles for Farm and Garden Fans
These animal miniatures created by a North Carolina artist are the perfect way to express your farm-love.
Image courtesy of Colin's Creatures
Two adults guard their child in this family portrait that was inspired by the artist's visit to Wales where he visited a farm that had over 700 ewes.
Are you an animal lover but don't have the time, space or desire to take on the responsibilities of a pet owner? Colin's Creatures, based in Asheville, North Carolina, offers a delightful alternative with a wide array of lifelike animal figurines made from handcrafted porcelain and woven fur. These charming collectibles have become increasingly popular since Colin Richmond launched his studio in 1993. Prior to that, he had worked as a business consultant in the corporate world for many years but being a square peg in a round hole eventually motivated Richmond to find a new vocation. The result was a highly unique one-man operation that expresses his love of animals and utilizes his creative talents.

While some of his customers focus on collecting the different breeds of sheep or lambs he creates, others make their own menagerie of his work including alpacas, camels, lions, goats, donkeys, pigs or other animals for home decorating, seasonal displays, Christmas gifts or themed arrangements for weddings, baby showers and birthdays. Sheep, however, remain his most popular creations. "It brings me great pleasure," he says. "I travel a lot to research the sheep. And sheep people, agricultural people, are just the most delightful people in the world. It's so rare to meet an unpleasant person that handles animals."

The artist arrived at his process for creating sheep and other animals through trial and error in the beginning but the production is now a refined step by step procedure that combines porcelain, castable stone (aka hydro-stone) and imported woven fur from Steiff-Schulte in Germany to make animals that feel as good as they look. Whenever Richmond embarks on a new animal design he first researches it thoroughly, attending heritage farms, agricultural shows and meeting with breeders and experts. The creature's fur is always the first consideration in production. "The fur dictates the scale of the animal," Richmond notes. "I use six to eight different kinds of mohair which is typically the most expensive and lots of alpaca and wool." He says he is often offered the shearings from breeders' of alpacas and sheep but can't use it because, "it's got to be a woven fabric. Otherwise it's just clumps of fur. It has to be sticking up to look natural."

Once the fur type is selected, Richmond carves the most distinctive features of the animal, which will be porcelain, the heads, legs and horns. He then carves the body out of a castable stone and makes a rubber mold of it. When carving the body, he cautions that "you have to accentuate the curves because if you don't, it looks like a block. You have to make it extreme for anything to show up through the fur." Once the hydro-stone body and the porcelain appendages are cast, he glues them all together and covers them with the woven fur.
While Colin's Creatures are distinctive for their lifelike qualities, tactile appeal and well proportioned size, they are also low maintenance. The only thing they might require over time is some minor lint removal. "Just moisten your hand and brush it off," he advises. "No reason to use soap and water on the fur. You don't want to saturate it. The glue would come undone."

When I asked Richmond which animal presented the most creative challenge from a production standpoint, he came up with several examples. "A creature can be challenging in different ways. Anything with horns such as rams and cattle are a fun challenge to carve because the horns must be symmetrical. The lion on the other hand was not only a challenge to carve because it is all porcelain and thus a very large mold but it is a challenge to make because it is all airbrushed, the body in two colors before firing and the alpaca mane has three colors that go on after it is all glued together. "

Richmond retires a handful of his creatures every year, some because he doesn't have room for the molds in his small studio and others, such as the bison and moose because his suppliers stopped manufacturing those specific types of fur. The lack of appropriate fur is also a reason why he doesn't, for example, create different breeds of cats. "All I can do is a black cat because that's the only fur than I can find but it got boring." As a business man, he caters to his customers' preferences and sheep, lamb and rams remain top sellers but Richmond would love to make more gorillas, chimpanzees and other primates but unfortunately there isn't sufficient interest from customers or the marketplace for those items at present so they will stay retired.

Currently the majority of Richmond's buyers are in the U.S. but he does have some devoted customers in New Zealand, Australia, Spain, Germany, Great Britain and the Netherlands. He also plans to do further research on sheep and goats in the countries of France, Germany and Switzerland in the coming year so you can expect to see some new breeds on display at Colin's Creatures in the future.

"I truly enjoy what I do," he states, "and would do it if I won the lottery. Sometimes I'll carve for my own pleasure and probably the customer will never see it because I just wanted to see if I could do it."

The Latest From Our Blogs
Catch up on the latest HGTV show and design news right here.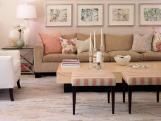 Found a living space you love in HGTV's Photo Library? Get the look in your own home with products from Wayfair.