Prosciutto and Cheese Pastry Wreath
Make a statement this holiday season with a savory puff pastry that's as festive as it is flavorful.
puff pastry sheets, defrosted
5 pieces of prosciutto (or ham), chopped
1/2 large white onion, chopped
4 cloves garlic, chopped
fresh thyme
1/4 cup parmesan cheese, grated
1/2 cup fontina cheese, grated
1 egg
1 teaspoon water
1. Preheat oven to 375 degrees F, and defrost one sheet of frozen puff pastry dough.
2. Saute chopped onions and garlic until golden. Add fresh thyme and prosciutto and saute for an additional 2-3 minutes. Set aside.
3. Once your dough has defrosted, thin down slightly with a rolling pin, lightly dusting both sides with flour (image 1). Begin cutting 1 1/2-2 inch strips on each side of the rectangular dough using a knife, only cutting 1/3 of the way towards the center (image 2).
4. In the center of the dough that is still intact, add prosciutto mixture and cheese (image 3). To cover the filling, braid the strips of dough one over the other (image 4). Once all strips are overlapping each other, carefully bend the braid into a circular wreath shape (image 5).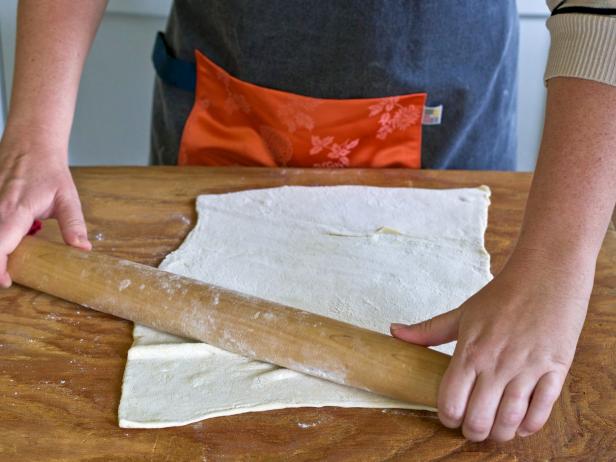 092026005024
Thin out pastry dough with a rolling pin to make a cheese and herb wreath pastry for holiday guests.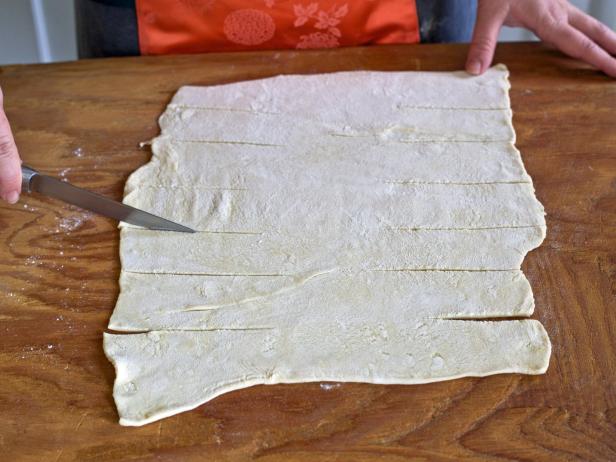 092026005024
Cut dough into strips to make a cheese and herb pastry for holiday guests.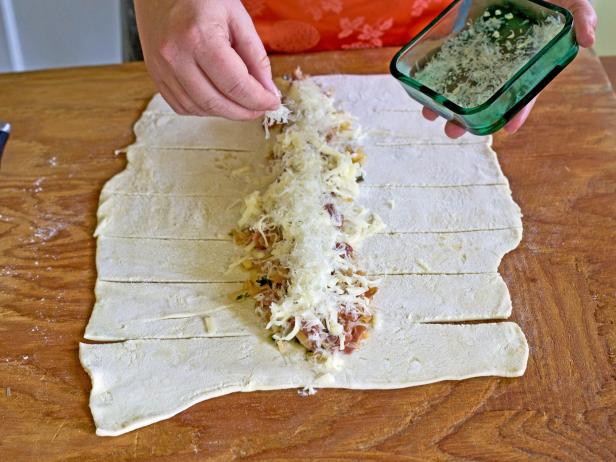 092026005024
Top dough with cheese and herbs to make a wreath pastry for holiday guests.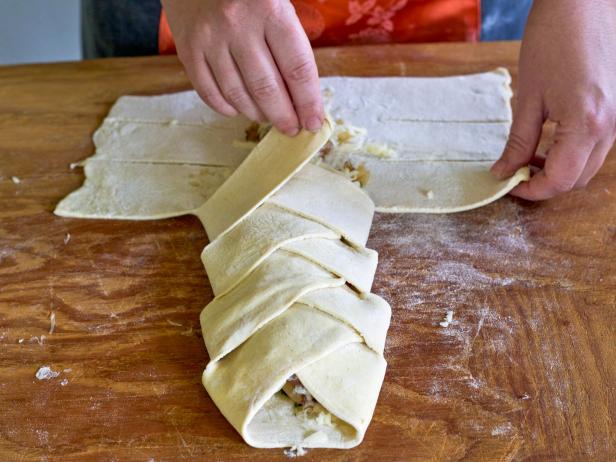 092026005024
Braid dough strips to enclose the cheese and herb wreath pastry filling.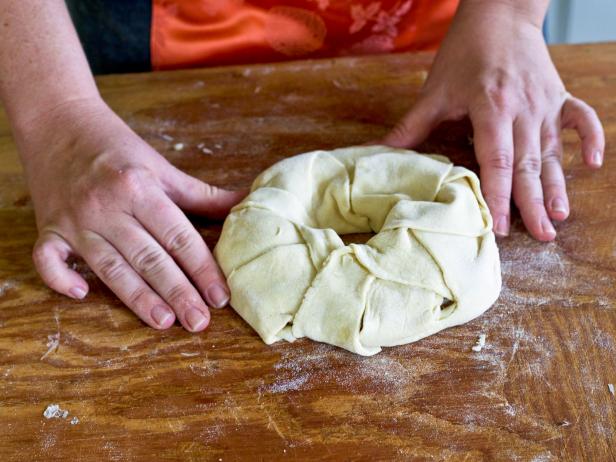 092026005024
Shape the dough into a wreath form to create a holiday-inspired breakfast for overnight guests.
5. Create an egg wash by whisking one egg with one teaspoon water, and brush over the entire pastry (image 1).
6. Tighten up any openings in the wreath before placing on a baking sheet, and bake for 45-50 minutes or until the top of the pastry is golden brown (image 2). Let pastry cool, cut and serve.