Fabulous Floral Wedding Cakes
Garden-themed wedding cakes are the perfect union of sugar, flour and flowers.
"Garden themes on cakes are timeless," says Graham Haddock, owner of Cakes by Graham in Richmond, Virginia. "Today 'a garden theme' doesn't necessarily mean a picket fence like it used to. There are so many different ways to incorporate gardens into your wedding cake; it just takes a little imagination."
In his 20 years in the world of wedding cakes, Haddock has done every flower imaginable, both real and created. "I've done roses, calla lilies, orchids, gardenias, peonies, leaves, tree trunks, branches and poinsettias," he says. "Whether or not I use real flowers or create my own depends on a variety of factors, including the design of the cake, where it will be displayed and seasonal availability. Calla lilies and poinsettias are not food safe, so we create those with petal paste, or sugar dough."

Need more cake inspiration? Browse the gallery below for more gorgeous, garden-themed wedding cakes:
The Latest From Our Blogs
Catch up on the latest HGTV show and design news right here.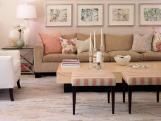 Found a living space you love in HGTV's Photo Library? Get the look in your own home with products from Wayfair.