Living Room From HGTV Urban Oasis 2012
Low-profile furnishings, a crisp white palette and sleek lines set the tone for the apartment's contemporary design style.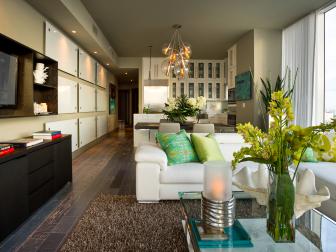 A sleek white leather sectional, the first item purchased for HGTV Urban Oasis 2012, served as a springboard for interior designer Lindsay Pumpa's "livable contemporary" design.
Browse Living Room Photos
We didn't do colorful paint or colorful upholstery in the living room. The colors you see out the windows are translated through accessories and lots of texture too: in the tile-clad column, the rug and bubble texture of the chandelier.
Interior Designer Lindsay Pumpa
Take a 360° Tour

Immerse yourself in the living room. Pan around and zoom to survey the entire room.

Discover Every Detail
2012 Urban Oasis Living Room Tour
Brian Patrick Flynn gives a tour of the 2012 Urban Oasis main living area.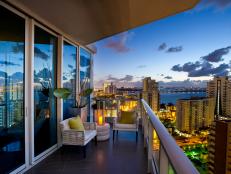 A luxurious extension of the living room, the terrace offers a luxurious perch above Miami's spectacular Biscayne Bay.