Terrace Suite From HGTV Smart Home 2017
The color purple inspires the design in this trendy guest bedroom and bathroom, where comfort and style invite overnight visitors to unwind.
Immerse yourself in these beautiful spaces. Pan around and zoom to discover every design detail.
Tour the Terrace Bedroom at HGTV Smart Home 2017
Take a look inside the HGTV Smart Home 2017 terrace bedroom suite.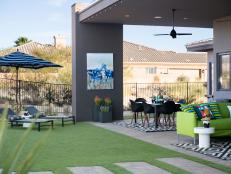 This inviting backyard has space for dining, entertaining and relaxing outdoors, with an updated 1960s modern color palette that includes lime green, black, white and tones of cool blues.