Tour the Backyard From HGTV Smart Home 2017
This inviting backyard has space for dining, entertaining and relaxing outdoors, with an updated 1960s modern color palette that includes lime green, black, white and tones of cool blues.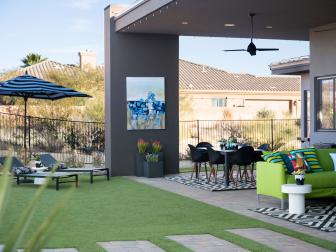 The patio and pool area include spaces to relax with beautiful desert views, and offer a wonderful way to enjoy the unique location of this spectacular property.
Browse Exterior Photos
Tour the Exterior of HGTV Smart Home 2017
Take a 90-second tour of the backyard at the HGTV Smart Home 2017.
This desert home's exterior architecture embraces a clean-lined, masculine feel, while the interiors feature soft, neutral-based textiles.