Colorful Tile Appeal at HGTV Dream Home 2016
From colors that won't get old, to patterns that are large enough to make an impact, get expert tips for choosing tile.
If you've never bought tile before, let me tell you how the process might play out. It starts with excitement over a particular style that is going to make your kitchen, bathroom or laundry room soar to great heights, and you're going use it floor to ceiling.
Then you estimate how many square feet it's going to take and almost faint from the materials cost. Next, you tweak the design plan and now it's no longer about the tile because you can only use about a portion of the amount you wanted to due to budget costs.
It's time to choose grout and you worry that the contrast grout makes the design too busy and maybe the tone-on-tone grout is too boring. Also, how are you going to finish the exposed edges? Do you need a "bull nose" for the edge of the wall or along the bottom of the wall to use as a baseboard alternative? All of a sudden, you realize tile is remarkably complex.
Behind the Design
Interior designer Brian Patrick Flynn takes us through the creative process for the ultimate Floridian escape, from picking fabrics to creating a vision.
With seven years experience under my belt, I've learned a thing or two about choosing tile effectively. Maybe I opted for Kelly green tile in a bathroom once without thinking about how it would cast an unflattering color onto a homeowner's skin, maybe. Perhaps there was a time when I didn't take into consideration exposed edges of a porcelain tile and instead of noticing the gorgeous masonry, all people saw was this unfinished beige peeking through a metallic brown tile. Anyway, you get the point.
When it came to choosing tile for HGTV Dream Home 2016 in Merritt Island, Florida, I pulled out my bag of tricks to make the process much easier.
To keep in check with the cool, light and bright color scheme of HGTV Dream Home 2016 in Merritt Island, Florida, tiles were chosen to keep the overall look consistent. In addition to black, white, and gray, mosaic tiles in new neutrals such as blue-gray and navy were chosen to introduce color but in a manner that is not too intense or trendy.
The first tile selected was a classic marble mosaic basket weave pattern for the kitchen backsplash. This timeless pattern stands the test of time and works as a tool for tying together cabinet door finishes, along with a small accent of black to tie in iron pendant lights above the kitchen island.
Gray-green tones in a tumbled stone herringbone mosaic add a spa-like feeling to the powder room.
A layering of navy blue penny rounds paired with blue-gray wall paint and white trim in the terrace suite bathroom create a cool depth. Since the guest bathroom is tiled with a bold robin's egg blue and blue-gray penny rounds, the walls are white to help tone down the vivid hues.
Another designer trick used in the guest bedroom and bathroom is a mix of warm and cool colors to strike balance. The bedroom is painted in a warm shade of terra cotta to add contrast against the cool blues in the attached bathroom.
In the teal and white master bathroom, beveled white subway tiles add a crisp, reflective touch to the vanity walls while a matte white and gray marble hexagon-shaped tile adds a coarse touch to the shower floor.
Something you may not think of while choosing tile at a showroom or home improvement store is how the tiles will read true to color in your own home versus the artificial lighting used in most commercial spaces. One of the trickiest colors to get right is blue green. In artificial light, a blue green tile may seem almost green but when brought into natural light it may appear blue.
Anytime I'm using this color, I take a photo of the tile in both natural and artificial light and take a sample home to see it in its potential spot. The same goes for very light colors like faint blue grays or gray greens.
In fact, I usually take a sample size of any paint color being used in the same room to see how the paint color reads up against the blue-gray or gray-green tile, aiming for the colors to be almost exact but just slightly off to avoid a catalog feeling.
It's wise to lay all of your tile out together and make sure your color story throughout the house is cohesive. It doesn't need to match, but rather flow nicely from one space to the other.
Something I find rather comical, especially since it was unplanned, is how my local project manager AJ and I both showed up to the property in the same colors used for the guest bedroom and guest bedroom tile. Obnoxious or coincidence? You decide.
Another issue you can run into when shopping for tile is falling in love with something that you have to take with you or else risk it selling out. I don't own a pickup truck but to make life easier, I'll rent one by the hour from a local home improvement store to save myself the headache of making multiple trips or having to hire a moving service.
Think ahead about how heavy tile can get once you buy it by the box or case. It took AJ and I 20 minutes walking back and forth from the pickup truck to get the heavy load situated. Tile logistics are not for the faint of heart, especially in 98-degree weather with 600 percent humidity.
Lastly, but definitely not least is quality control. Since you need so many pieces or sheets of tile for your wet spaces, it's likely some of them are going to be damaged or cracked from all the movement during transportation and shipment.
Once you're situated, take the time to go through the boxes and ensure your installer doesn't find out you don't have enough useable tiles before you start installing. In fact, it may be smart to buy 5% more tiles than you need to account for any broken pieces.
And that's all for now. You go have a nice day, while I continue to wipe grout dust out off my hair and ears.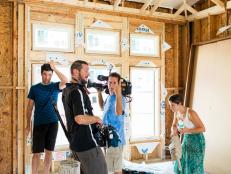 Go behind the scenes at HGTV Dream Home 2016 and see how the design team rolls with the punches.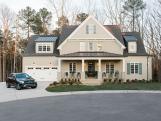 A modern Austin farmhouse located in Austin, Texas
A modern mountain retreat located in Coeur d'Alene, Idaho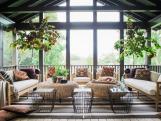 A 1,300-square-foot bungalow in the heart of Asheville, NC.