Lighting Design from HGTV Dream Home 2016
When it comes to lighting, there's a lot of design lingo that makes the selection process tricky. Get expert tips for picking the perfect fixture.
Flush mounts. Pendants. Semi-flush mounts. Mini-pendants. Sconces. Torchieres. When it comes to lighting, there's a lot of design mumbo jumbo that can make the selection process tricky.
In fact, most of my clients leave the terminology out altogether, for example, "We need a light in the living room and also some new lights in the guest bathroom." This is mainly because they don't deal with lighting on a daily basis and therefore probably won't need to use the word sconce again for a decade until they redecorate.
Although it may not seem vital, lighting can quickly make or break a room, so it's important to get your fixtures right in regards to the proper illumination, setting the right mood and complementing the overall design style of a space.
My associate Ashley Bothwell and I took a trip to the Ethan Allen showroom in Midtown Manhattan to select the ceiling-mounted fixtures, brand-new table lamps and floor lamps for HGTV Dream Home 2016 in Merritt Island, Florida.
Was it a productive day? Yes, we were done with our selections and placing our orders in time to pick up a pound of candy and catch an 11:45 a.m. movie at the cinema across the street. Did I intentionally wear Floridian colors, including coral-toned chinos, to represent the Merritt Island location, where I was born and raised a few hours away? Maybe.
When it comes to lighting styles, I'm somewhat of a chameleon. I am always willing to bend to what my client wants, as long as the lighting works with the architecture of the house and makes sense in the space. For example, I wouldn't use a Victorian crystal chandelier in an adobe home in the middle of New Mexico because it may not make sense. There's a first time for everything, right? But I digress.
When given my first choice, I'm drawn to classic industrial fixtures since I feel as though they fit with almost any interior style and mix well with a wide variety of furnishings and artwork. If you're a traditionalist and aim for a glamorous or formal room, you can't go wrong with an iron and crystal chandelier. It's classic.
Finding the perfect-sized fixture to anchor a large room with soaring ceilings can become a tall order if you're aiming for a particular size. It makes life easier by sourcing a group of the same or slightly similar fixtures. As long as the scale of each fixture is proportionate to the other, it's going to work out.
In the living room at HGTV Dream Home 2016, I'm grouping three of the same fixtures together directly over the center of the seating area and suspending them at three different heights. This will delineate the seating area from the other spaces in the great room while anchoring it.
Do you ever fall in love with something in a showroom, but when you get home, the object doesn't fit correctly visually? Perhaps, spatially it fits just fine but it feels wrong or even forced. That's because of its visual weight. You have to think of the room compositionally, like a painting, and make sure each element carries its weight and holds its own against the other.
Many times I find when I'm looking for a larger table lamp that's bulky, it can end up being disproportionate with the table or nightstand it sits on. The trick to getting larger table lamps right is to choose lamps made of glass. You still get the shape and scale needed, but the glass lessens the visual weight since it's translucent.
In addition to lighting choices, reflective objects play a big part in the overall effect. For example, if you place a table lamp on a table, chest or desk made of antique mirror or mercury glass, the reflection will create a rich, warm glow that adds to the look of the space.
Also, reflective objects can create an interesting play on shapes and shadows on nearby floors, walls or ceilings, and make for excellent conversation when guests are visiting.
Behind the Design
Interior designer Brian Patrick Flynn takes us through the creative process for the ultimate Floridian escape, from picking fabrics to creating a vision.
A mix of different lighting elements plays a huge part in the success of a room's design. Add statement-making overhead lighting along with a few elements of task lighting such as table lamps, desk lamps or floor lamps. By doing this, you'll have lighting at different levels, eliminating harsh shadows or creating isolated hot spots in the room.
Since HGTV Dream Home 2016 is in Florida and sits on the water, there's amazing natural light, therefore light and bright colors work perfectly in almost every room. But too much direct light can have an effect on fabrics and rugs, causing them to fade quickly, so it's smart to think about this prior to selections.
Fixtures are not the only factor to consider when it comes to a room's lighting plan.
Anytime you've got a room that's flooded with abundant natural light during the day, it's wise to capitalize on that light with light furniture, reflective accents and even bright colors.
It's a good idea to incorporate glass and crystal accents into spaces that receive tons of natural light due to the soft, diffusing effect they have on nearby elements.
Color influence is something many homeowners may not think about when choosing their lighting. If you're introducing a single light fixture into a room that's painted a dark color or a saturated tone like hot pink or coral, the color may read differently at night once lit by bulbs. In cases like this, diffused lighting fixtures such as drum pendants made of fabric are ideal because they'll help white balance the colors, allowing them to read truly.
Lastly, different styles of lighting can have effects on skin tones. For bathrooms, anytime you use diffused lighting you will cast a more flattering glow onto yourself, rather than using fixtures with bare bulbs, which can create hot spots.
I hope that helps. Now excuse me while I go check all of the light bulbs in my own house.
Ethan Allen fully furnished the HGTV® Dream Home 2016. Shop the looks you love at ethanallen.com. Or visit your nearest Ethan Allen Design Center to start living the dream today—their design pros can show you how!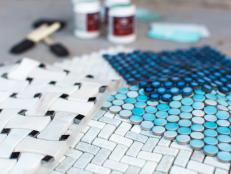 From colors that won't get old, to patterns that are large enough to make an impact, get expert tips for choosing tile.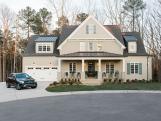 A modern Austin farmhouse located in Austin, Texas
A modern mountain retreat located in Coeur d'Alene, Idaho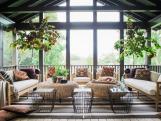 A 1,300-square-foot bungalow in the heart of Asheville, NC.