Front Porch From HGTV Dream Home 2014
With its mix of modern, industrial and rustic elements, the front porch of HGTV Dream Home 2014 offers a glimpse of the modern mountain style within.
The front porch juts off of the home's foyer, which connects the public living space with the more private sleeping and lounging wing.
HGTV Dream Home 2014 Inside Tour
Brian Patrick Flynn tours HGTV Dream Home 2014's interior in 90 seconds.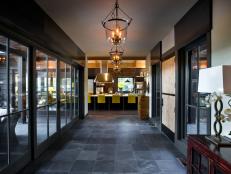 This foyer offers a glimpse of the New Mountain architecture seen throughout the home, and connects its public and private wings.