First Floor Hallway From HGTV Dream Home 2014
Bold design details, rich textures, bright colors and a spot for Fido fill the first floor hallway off the entry.
Bold colors and rich textures define the space just off the entry foyer.

Browse Photos
A vibrant green powder room lives across from the stairwell that leads to the second-floor bedrooms and family room, while a spot for the family dog is tucked under the stairs.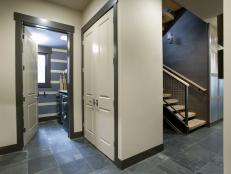 Laundry Room From HGTV Dream Home 2014
The stylish laundry room's central location just off the garage and tiled foyer makes it simple to drop off messy items to keep the home sparkling clean.
A modern Austin farmhouse located in Austin, Texas

A modern mountain retreat located in Coeur d'Alene, Idaho


A 1,300-square-foot bungalow in the heart of Asheville, NC.